Appliance retailers are poised to take a page from the car dealership playbook in promoting a new government program offering
rebates on energy-efficient washers, refrigerators and air conditioners.
Indiana and other states are working
on parameters to distribute $300 million in federal stimulus money in a program that bears a resemblance to the popular "Cash
for Clunkers" program that emptied car lots across the country. Buyers of Energy Star appliances stand to collect rebates
of $50 to $200 or a tax credit up to $1,500 for an energy-efficient heating and cooling system.
The program could
help retailers sell 2 million appliances for a total economic impact of $900 million, Janney Montgomery Scott analyst David
Strasser predicts.
Locally based retailers like Clark Appliance and HHGregg Inc., which gets more than 40 percent
of its sales from appliances, stand to benefit. Sales of washers, dryers and refrigerators have been as slow as cars, thanks
in large part to a stagnant housing market. HHGregg reported appliance sales were down 17 percent in its most recent quarter,
which ended June 30.
"Assuming the plan kicks in around the holiday season, we believe the retailers with
exposure to appliances could see disproportionately high traffic," Strasser wrote in an Aug. 21 note.
HHGregg
already is ramping up advertising efforts for appliances, particularly its lineup of Energy Star products. The magazine Consumer
Reports in August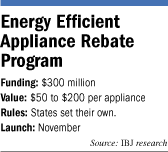 ranked the company No. 1 in the nation for its appliance selection.
For now, the promotions play up
how efficient appliances can save customers 30 percent on their energy bills. Once details of the rebate program emerge, the
company will add them to the campaign, said marketing chief Jeff Pearson.
"We're excited about the
prospects," he said.
The so-called Energy Efficient Appliance Rebate Program falls within $42 billion of
energy investments in the federal economic-stimulus bill. The money will be divided among states that design custom plans
for rebates on energy-efficient appliances or tax credits for residential air conditioners or furnaces.
Details
on how the plan will work are not yet available because the U.S. Department of Energy must approve each state's proposal.
Applications from states are due in September.
Indiana is set to receive at least $6.1 million and hopes to launch
its program in late October or early November, said Eric Burch, director of policy and outreach for the Indiana Office of
Energy Development.
The state is waiting on federal approval before it offers any details about its proposal.
The cost of administering the program, and potentially recycling old appliance or HVAC units, would come out of the rebate
pool, Burch said.
He called it a "very different" program from Cash for Clunkers. The incentives
likely will take the form of rebates and not upfront discounts on Energy Star products, and probably won't require old
appliances be taken out of commission.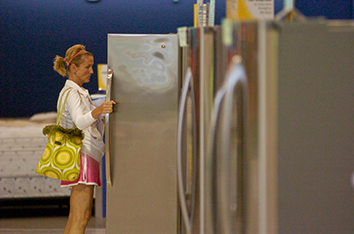 Kristine Smith checks out refrigerators at HHGregg on 96th Street. The chain hopes a new government program attracts
more customers. (IBJ Photo/Robin Jerstad)
"We think it'll be popular, but probably not as wildly popular,"
Burch said. "Everybody here thinks we won't have trouble giving away $6 million."
Promotions
like Cash for Clunkers and the appliance rebates create excitement and traffic, but it remains to be seen whether they hurt
long-term profits by cannibalizing future purchases, said Theresa Williams, who directs the Center for Education and Research
in Retailing at Indiana University.
"There's a risk of promoting ourselves into bankruptcy,"
she said. "We've done it over the past decade."
Still, the program is creative and likely will
get results. She expects appliance retailers to promote the rebates with the same gusto car dealers did with Cash for Clunkers.
"I have to give kudos for at least a creative idea for sales stimulation," Williams said. "Nothing
to this point had really drawn shoppers back into the stores."
Appliance sales have fallen in direct proportion
to the housing market. The Association of Home Appliance Manufacturers said shipments of major appliances fell 22.5 percent
for the quarter that ended June 30.•
Please enable JavaScript to view this content.