The Bloomington restaurant and nightspot Kilroy's plans to open a downtown Indianapolis location in the former home of Smokey Bones Barbeque and Grill.

Restaurateur Paul Murzyn has signed a lease for the 8,700-square-foot, first-floor space at 201 S. Meridian St., a historic building with luxury condos upstairs. He hopes to open the restaurant called Kilroy's Bar and Grill in October.

Murzyn will be majority owner, while Bill and Linda Prall will be investors. It's the first foray outside Bloomington for the Pralls, who opened Kilroy's on Kirkwood in 1975 and added Kilroy's Sports Bar at Eighth and Walnut streets in 1986. The bar is named after a popular cartoon character that U.S. soldiers scribbled on walls wherever they were stationed during World War II.

The new restaurant will reprise some Kilroy's standbys, including 40 varieties of Long Island iced tea, 120 different shots and the famous stuffed breadsticks. Otherwise, the menu and atmosphere will be a bit more grown up, Murzyn said, "just a laid-back place to catch a game and hang out with your friends."

"It's not just going to be a college bar," said Murzyn, a former Buffalo Wild Wings franchisee who now owns Britton Tavern and Casler's Kitchen & Bar, both in Fishers. He's also an IU graduate.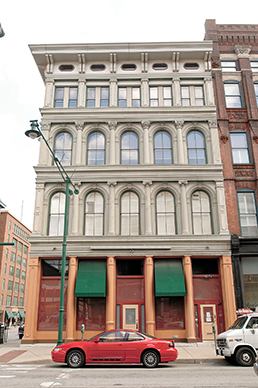 The former Smokey Bones has been vacant since 2007. (IBJ Photo/Robin Jerstad)
Murzyn plans to reupholster booths from the former Smokey Bones, give everything a fresh coat of paint, and add dozens of flat-panel TVs. He declined to say how much he will spend to build out the space.

The idea of expanding from a college-town staple into an alumni favorite is a familiar journey for Scotty's Brewhouse, which opened a downtown location in January. The first Scotty's opened in Muncie, near Ball State University, in 1996. It later expanded into West Lafayette, to Indianapolis and to Bloomington, where it opened in 2001 across the street from Kilroy's Sports.

Scotty's owner Scott Wise doesn't see Kilroy's as a direct competitor. At least in Bloomington, it's more of a bar than a restaurant, with a focus on drinks, specials and disc jockeys.

He says a "high density" of restaurants can help everyone doing business in the area, and he expects another Indianapolis option won't hurt sales at Scotty's.

"The majority of our customers have dinner at our place, then go elsewhere to drink," Wise said. "If it hurts us anywhere, it will be on IU game days, when alumni who come in now might go to Kilroy's."

The former Smokey Bones space has been vacant since May 2007, when Orlando-based Darden Restaurants Inc. closed it, along with a Smokey Bones in Avon, Rocky River Grillhouse in Castleton, Bahama Breeze along East 96th Street, and more than 50 other restaurants as part of a nationwide purge.

The Kilroy's deal is a sublease with Darden. Three years remain on the initial term, and the new restaurant also gets the option to extend the lease for three five-year terms, said Steve Delaney, a partner with Sitehawk Retail Real Estate who brokered the deal.

The downtown space took a while to fill for a couple of reasons, starting with its large size compared to a typical restaurant space, Delaney said.

The other issue was Darden didn't want to lease to an Italian concept (since it owns Olive Garden), a seafood concept (it owns Red Lobster) or a steakhouse concept (it owns Capital Grille). Only Capital Grille has a downtown location.

"Darden also wanted to make sure they had someone with adequate background in restaurants and net worth," Delaney said.•