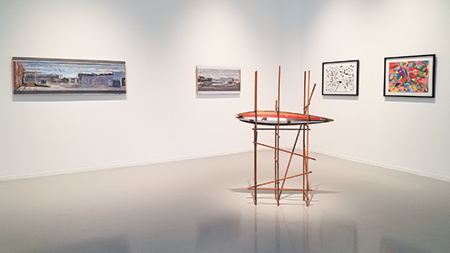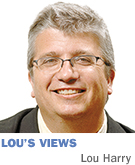 I have no idea what Chicago art aficionados think of central Indiana artists—if they think about them at all. But it's certainly a positive step for cultural outreach when an octet of talented Hoosier artists is celebrated in a show in one of the leading markets in the country.
The artists—all on the Herron School of Art and Design faculty at IUPUI—represent well in the awkwardly named exhibition "Chicago and Indianapolis: What's the Connection?" (through Aug. 16 at Chicago's Zolla/Lieberman Gallery).
The title question isn't answered—or even really addressed—in the work itself. Instead, the pieces speak for themselves in a show smartly curated and presented. Rather than isolate each artist into his or her own section of the two-gallery space, the curators—who have dual Indy/Chicago residences—group enough to let visitors get a feel for the work of the individual artist and then mix and match a bit, creating a bond within the show even though the work is in widely diverse styles.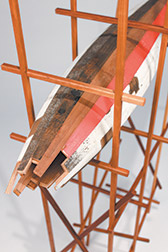 Ray Duffey's "Recovery," above, is among the works by Herron School of Art faculty members on display in Chicago. (Photos courtesy of Zolla/Lieberman Gallery)
Highest-profile, perhaps, are the meticulous, intricate creations of Anila Quayyum Agha, who rose to wider recognition after her stunning "Intersections" pieces won the top award at ArtPrize 2014. The works here aren't close to that scale, but her four pieces inspired by the Kaaba—a sacred Islamic building—make beautiful and thoughtful connections between traditional women's handiwork and spiritual identity.   
Place is also significant in Marc Jacobson's horizontal landscapes—including the backs of industrial buildings, loading docks, etc. Focusing on locations that most of us would pass through without thought, his drive-by esthetic fuses time and desolation. By the elimination of specificity—even in works with titles such as "Dollar Store"—he makes clear the presence of the painter as well as the subject.
Point of view is central to Valerie Eickmeier's work, where the world is reflected in rippled water, distorting perspective but also making us aware of the presence of something just out of reach and slightly beyond clarity.
Also in the mix: wood artists Ray Duffey and Reagan Furqueron, patterned paintings by Melissa Parrott Quimby, assemblages by Andrew Winship, and plywood structures by William Potter.
__________
What's the connection between the Herron artists' show and my experience that followed? None, really, except that, while in the neighborhood of the Zolla/Lieberman Gallery, I also stopped in to a high-concept new eatery that is as much about entertainment as it is about food.
It might seem odd when talking about a restaurant/bar, but I'm going to give you a spoiler warning about SafeHouse (60 E. Ontario St., Chicago) since much of the pleasure came from the unexpected. If considering going soon, you might not want to read what follows (although I'll mention only a few of the many details).
We entered SafeHouse through an unmarked red door. Hint: Look for signs for the nearby bogus company International Exports Ltd. Once permitted inside, an officious woman quizzed my party of three on our spy credentials, of which we had none. No worries: She simply needed to see examples of our martial-arts moves to make sure we were on the level.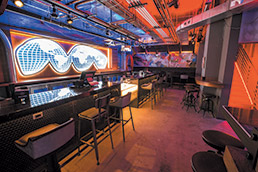 Faux spy displays and James Bond-style interactives are all part of the experience at SafeHouse, a Chicago restaurant and bar. (Photo courtesy of SafeHouse)
We played along and were granted entry, which took us down a stairwell and to another unmarked door, which we opened to find … a bar full of folks applauding us.
Why?
Because that odd picture on the wall in the entry room masked a camera that broadcast our pathetic kung fu moves to video screens throughout the venue.  
What followed was a good-enough meal (the burgers and cheese curds outshined the fish) in immersive, industrial surroundings packed with interactives and James Bond/Austin Powers references. Decor included a flight deck from a spy plane and a piece of the Berlin wall. A nattily dressed magician presented card tricks and groaner jokes. A periscope offered sneak peeks of barstool dwellers, while a selfie station provided exotic backdrops for photos. A touchscreen map accessed sweeping views of world hotspots. And missile-launch videos mixed with the aforementioned embarrassing entrance shots on screens throughout. A final nice touch: The food bill was labeled "damage control."
Politically, this seems like one of the worst times to open a playful place themed around espionage and behind-the-scenes political machinations. But SafeHouse certainly delivered a one-of-a-kind dining experience. And paired with a visit to the thematically connected EscapeHouse upstairs—a terrific example of the booming escape-room genre with an Oval Office scenario—made for a fun afternoon.  
Oh, and, if you go, opt for the fun exit rather than just taking the elevator up. Just don't reveal who leaked the intel.•
__________
This column appears weekly. Send information on upcoming arts and entertainment events to lharry@ibj.com.
Please enable JavaScript to view this content.