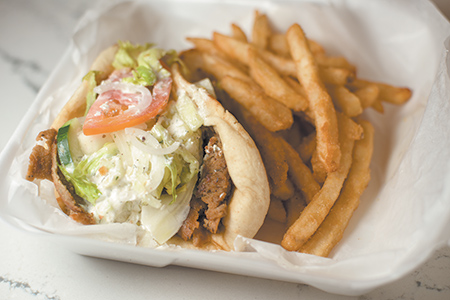 I've long lamented the lack of places on Mass Ave where you can grab a quick, budget-conscious meal.
While there's been a boom in table-service eateries, there has not been much of an uptick in escape-under-$10 choices. Sure, you can trek up to Yats at the far end of the street. And Goodfella's Pizzeria certainly helps with its slices. But it seems like the traffic here could sustain more. (Such spots are even more essential with Indy Fringe—and its narrow windows between shows—coming around again.)
Thank goodness for Petra Cafe (610 Massachusetts Ave., 317-602-3535), the newcomer adding Greek/Mediterranean food to the mix.
The location is near where Aesop's Tables used to be, but Petra doesn't come near the seating capacity or extensive offerings that Mass Ave dining pioneer used to have. Here, you're lucky if you can snag one of a few tables. And you won't have to spend much time perusing the limited choices.
But simple as it is, the menu can be confusing.
For instance, there's nothing to indicate the difference between the Shawarma ($7.25 for a sandwich or $8.35 for a combo that includes fries and a drink) and the Petra's Classic Shawarma ($7.95/$9.50). The actual difference: tortilla vs. pita. And the thick Lentil Soup ($4.99) pictured on the menu was nothing like the very thin version that arrived on our tray. If I hadn't been led to believe it would be something heartier, perhaps I wouldn't have been so disappointed. And see my note on the dessert below.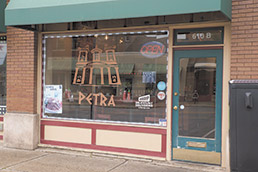 Customers at Petra Cafe order at the counter and then grab one of the few seats. (IBJ photo/Eric Learned)
Rather than an inconvenience, a bit of lag time between order and delivery makes clear this isn't a fast-food joint. And the results were worth the minor wait. At $8.35, the substantial Spicy Gyro Combo deserves to become a staple meal for anyone who frequents Mass Ave. If Petra Cafe were around the corner from my office, it would make my weekly rotation. With plenty of spiced and shaved meat, tomato, onion and just-enough tzatziki sauce, it overloaded its warm pita wrapping, but isn't that what forks are for?
The Shawarma was equally packed and didn't have the dryness that often comes with it. The fries that accompanied both sandwiches were crisply fried, meaty and plentiful. Combos come with a drink, which means grab a can of soda for yourself.
Other choices included Kebabs—lamb, chicken, kofta or a mix ($11.95 to $16.95) served with basmati rice, Grilled Chicken ($11.95 for a half bird), and Petra Maza ($9.95) with hummus, baba ghanouj, falafel and pita. Greek and Fattoush (olives and feta) Salads ($5.99) are also available.
Now about that dessert. For a closer, Mediterranean Ice Cream ($4.95) looked interesting. Initially, we were told they were out of it. But then the kitchen reversed that and served us—at full cost—a dish of nondescript vanilla ice cream rather than the tempting, attractively garnished sundae in the menu photo. Also confusing, the copy beneath the photo announced, instead of ice cream, a dessert "made of layers of filo pastry, filled with chopped nuts and sweetened with syrup."
Baffling. We probably should have gone with the Baklava ($3).•
—Lou Harry
Please enable JavaScript to view this content.