The newest and swankiest apartment complex in the Keystone at the Crossing area is on the market and generating a lot of buzz from interested investors.
82 Flats, a 232-unit project completed in 2013 by Cityscape Residential, formerly known as Hearthview Residential, cost about $24 million to build. It's north of the Clearwater Crossing shopping center at 82nd Street and Dean Road, within walking distance of the renovated Rivers Edge shopping center anchored by Nordstrom Rack and The Container Store.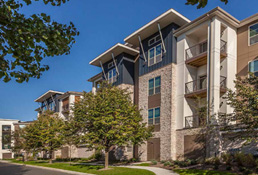 National demand for multifamily investment properties could push the sale price of 82 Flats to $35 million. (Image courtesy Cityscape Residential)
Cityscape is accepting offers on the property through May 16, at which time the local firm will select the most attractive proposals and request final bids, said Steve LaMotte, who co-leads CBRE's Indianapolis-Cincinnati multi-family group and is listing 82 Flats for Cityscape.
Hearthview, a veteran developer of condominiums whose projects include the downtown redevelopments of The Athletic Club and Mill No. 9, built 82 Flats as it began transitioning to apartment projects and the new Cityscape moniker.
Sources in the multi-housing sector say the "whisper price" on 82 Flats is above $150,000 a unit, or about $35 million.
"We're seeing tremendous interest from New York groups," LaMotte said. "Given the quality and centrality of the locale, there's a pretty good amount of institutional interest."
Institutional investors typically have been attracted to the coasts. But the resurgence of the multi-family market following the bursting of the housing bubble has caused a bidding war on the coasts ithat's driving prices to astronomical levels. That's prompted many groups instead to seek out cheaper, more attractive investments in the Midwest.
82 Flats leased up quickly after opening last year and is 95-percent occupied, according to the property's marketing materials. It's commanding rents more comparable to the downtown market rather than the suburbs. At $1.43-per-square foot, singles are fetching about $1,200 per month and doubles up to $1,800.
The high-end units sport stainless-steel appliances, granite countertops, and in-building parking or private garages. Other amenities include a pool and fitness center.
"It's a testament to the quality of the location," LaMotte said of the rental rate. "All in all, it's been a very successful development."
In December, LaMotte sold another Cityscape apartment development, the 402-unit Prairie Lakes in Noblesville. The buyer was Chicago-based JVM Reality.
Cityscape sold that property and is unloading 82 Flats to take advantage of the favorable market and raise capital for the $300 million in projects it has in the pipeline. Those are in Kansas City, Mo.; Louisville, Ky., and another in Indianapolis that Cityscape isn't ready to announce.
"82 Flats is a terrific asset," said Jim Thomas, a partner at Cityscape. "We're not out to conquer the market in volume. We'd rather do really terrific locations."
Cityscape's other partners are Thomas, Brian Cranor and Kelli Lawrence. Thomas and Cranor have worked together about 25 years, since their days with Trammell Crow's Midwest division.
They both joined Chicago-based Amli Residential Properties LP when Amli merged with Trammell in 1997. The two started Hearthview in 2000 to focus on condo projects as a side business and left Amli a few years later. Lawrence joined Hearthview in 2001.
 
After financing for condo projects dried up following the housing bust, Thomas and Cranor decided to return to their roots and focus on apartment projects under a different company name. They founded Cityscape in 2012.
"There had been various other partners involved with Hearthview that weren't going to be involved with Cityscape," Thomas said, "so it made sense to create a new brand."
 
Please enable JavaScript to view this content.