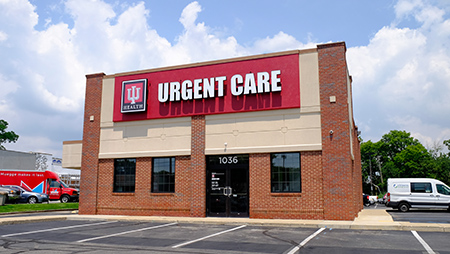 That old bank branch on Broad Ripple Avenue where you used to deposit a paycheck or apply for a car loan? This month, it reopened as an Indiana University Health urgent care center, where you can get sports physicals, a flu shot or stitches for a cut.
The trendy CityWay apartment-and-retail complex just south of Bankers Life Fieldhouse? By next spring, it will include a Franciscan ExpressCare urgent care center, offering treatments for earaches, nose bleeds and twisted ankles.
A bustling retail strip on East 116th Street in Fishers, near an ice cream stand, dry cleaners and doughnut shop? In a few months, it will be the newest location for Community Health Network's MedCheck clinic.
Urgent care centers, which already seem to have blanketed nearly every retail strip and neighborhood in central Indiana, are continuing to spring up at a surprising rate. The clinics promise quick health care in convenient settings for injuries and illnesses that aren't life-threatening.
But the landscape is beginning to shift. In a field long dominated by national chains such as MedExpress and American Family Care, local hospital systems now are jumping in with a vengeance. They see the small, storefront locations as a way to expand revenue, reduce demand on their busy emergency rooms, and get patients into their networks with a relatively modest investment and a staff of three or four clinical workers.
In the past two years, IU Health, which previously had no urgent care centers, has opened five—in Greenwood, Brownsburg, Lawrence, Plainfield and now Broad Ripple. Next month, it plans to open yet another location, along the border of Noblesville and Carmel at Hazel Dell Parkway and East 146th Street.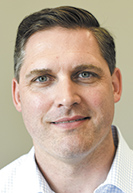 Kogan
And more might be coming, said David Kogan, vice president of retail health services at IU Health.
"The evolution of care in medicine is very much about meeting patients where they are," Kogan said. "As time goes forward, I think there's plenty of room for additional locations as folks look for convenient alternatives to some of the legacy models for health care."
Back in the 1970s and 1980s, when private health companies began opening the storefront clinics, some large health systems derided them as "doc in a box" outfits. Often, the clinics were seen as low on the health care food chain.
But the concept caught on with the public, who valued the convenient locations and late hours. People stricken with a twisted ankle, vomiting or strange rash could walk in and see a doctor without waiting for hours in an emergency room or several days for an appointment with their family doctor.
Companies that pioneered the concept grew into big enterprises or were bought by major chains.
Urgent care is now a $15 billion-a-year industry, with more than 7,400 clinics nationwide, including 133 in Indiana, according to the Urgent Care Association of America, a trade group based in Naperville, Illinois.
Visits to urgent care centers increased 19 percent from 2010 to 2015, according to a study by Accenture. Each year, about 300 locations open.
Changing mind-set
Hospital systems now see the industry is a way to attract patients who would otherwise not need to go to a hospital for emergency care or surgery. On top of that, it's a cheaper way to get referrals for surgery or acute care than the traditional method of buying up primary-care practices.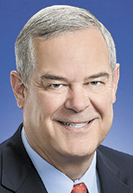 Abel
"I think the motivation for hospital systems is, they don't want to lose the patients to the urgent care center down the road that might be independent," said Ed Abel, director of the health care practice at Indianapolis-based Blue & Co., an accounting and consulting firm. "They would rather keep them in their system."
The urgent-care model is simple and easy to understand: Open clinics in high-traffic areas, treat patients quickly (in and out in under an hour, usually), and keep expenses low with small buildings and equipment that usually includes X-ray machines but not MRIs or CTs.
The staff at many clinics consists of a nurse practitioner, a medical technician and an assistant. Often, several clinics share a physician, who rotates among the sites and is available by phone for complicated cases.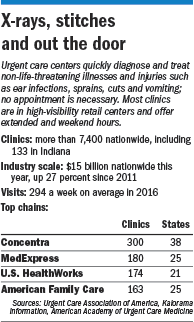 St. Vincent has been the most aggressive among the hospital systems so far—opening more than a dozen urgent care centers stretching from Zionsville to Kokomo. Its newest site, in Brownsburg, opens next month.
Franciscan Health has opened three ExpressCare clinics–in Greenwood, Carmel and Thompson Commons, near Beech Grove.
Franciscan said it sees the clinics as filling a void between a primary care office and the emergency room for non-life-threatening injuries.
And with an eye on the fast-growing millennial market, Franciscan views the clinics as a choice for the "growing demographic of younger patients who are just now making decisions about their health care but have not yet chosen a primary care doctor."
Community Health has opened seven MedCheck sites—in Anderson, Carmel, Castleton, Indianapolis, Greenwood, Noblesville and Speedway.
But the hospital systems are closing underperforming locations, too. IU Health shuttered a Zionsville clinic in April. Franciscan moved a Nora clinic to Castleton, then later converted the Castleton site into an administrative office.
Meanwhile, the national chains continue to grow. Birmingham, Alabama-based American Family Care, one of the largest operators, plans to open 300 locations, more than doubling its existing footprint of about 170 clinics.
MedExpress, owned by the Minnesota-based insurance giant UnitedHealth Group, is also expanding.
Location, location, location
The secret of a successful clinic, many say, is locating in a busy retail area on the edge of a neighborhood. That way, the clinic can attract residents, shoppers, office workers and even employees of nearby restaurants, bars and shoe stores.
Nationally, about half the centers are in free-standing buildings, with the rest in strip malls or other attached buildings, according to Kalorama Information, a marketing research firm. The average urgent care saw 294 patients a week in 2016.
That would seem to fit the bill for IU Health's Broad Ripple location, which opened earlier this month in a former Fifth Third Bank branch, nestled between a McDonald's and a FedEx mailing center, across from a strip center filled with restaurants, bars, bagel shops and cafes.
Workers remodeled and repainted the 2,800-square-foot clinic. It has four exam rooms, a procedure room where patients can get a cut stitched up, storerooms and an X-ray room.
On a recent, midday visit, the clinic was quiet, with no patients. But IU Health officials said six people had visited earlier in the day, and the clinic was still getting established. Outside, large IU Health signs and "We're open" banners fluttered in the wind.
The typical IU Health clinic gets 30 to 40 visitors a day, which is the industry average, Kogan said. He acknowledged that the Broad Ripple clinic, and others like it, could serve as a feeder to the system's larger facilities or find patients a doctor.
"We have the ability to seamlessly help patients find the next level of care as appropriate," he said. "We have the ability to get them to a primary care referral, a specialist, and in some cases a referral to an emergency department may be necessary."•
Please enable JavaScript to view this content.