As tech firms such as Salesforce and Infosys forge ahead with significant hiring plans in Indianapolis, Angela Smith Jones—the city's deputy mayor of economic development—wants to ensure that traditionally underrepresented groups are represented in those new jobs. 
Jones will speak on that and related topics in an opening keynote address next week at tech-diversity conference called Disrupt Indy, which will run  Aug. 2-4 at the NCAA Hall of Champions & Conference Center. The following are edited excerpts from a conversation she had with IBJ about diversity in tech.
IBJ: Has Indy had something like Disrupt Indy before?
SMITH JONES: I don't recall there being anything of this nature focused on inclusion in the tech space. And not to this scale. I'm excited about it, thrilled. I think it is needed and is an opportunity to show the full spectrum of inclusion.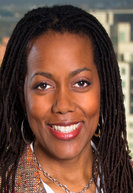 Angela Smith Jones
IBJ: Tech is not the only industry that's had problems with gender and even ethnic diversity struggles. What do you think is behind the intense focus on diversity in tech?
SMITH JONES: I believe it's because it's the fastest-growing employment opportunity. And historically tech has stood up for inclusion, it's been that voice of inclusion in the past, so people expect it.
IBJ: White and Asians seem to be represented well at tech firms, but not necessarily blacks and Hispanics. What may be some of the reasons for that?
SMITH JONES: I think it's a combination of things. One deals with training and education, in that blacks and Hispanics are not necessarily encouraged to pursue STEM (science, technology, engineering and math) paths when they are younger. 
And secondarily, I think it deals with circles of influence, in that people typically reach out to those with whom they're most familiar. And it seems that a lot of entrepreneurs are reaching out to their peers, which is fine, but they just don't seem to have a lot of peers that include minority groups.
IBJ: What needs to be done to help improve diversity in tech?
SMITH JONES: I think it involves coding boot camps and (workforce development agency) EmployIndy working in our city to get the word out about tech to their constituents. It involves partners like the K-12 educational system, so we can create a pipeline and start to instill that faith in the youth. And it's utilizing (summer youth program) Project Indy to expose children to aspects of STEM. They may or may not want a career in it, but exposing that to them as an opportunity is key. 
And with EmployIndy, specifically, when people are coming into the WorkOne centers, identifying skill sets so you can direct candidates to, for example, (coding academy) Eleven Fifty academy to get the requisite training and skill sets. So when Salesforce or Infosys is ready to hire, you can have a list of candidates that could be diverse. 
So I think it's those key stakeholders, recognizing the importance of their roles, working together. And as I work with these companies, constantly reminding them of the opportunity for quick wins with EmployIndy and pipeline wins through other stakeholders within our city, like the K-12 educational system.
IBJ: We've seen the issue of women in tech get a lot of notoriety and press lately for the various efforts underway. What lessons can be gleaned from those efforts and applied to ethnic diversity?
SMITH JONES: Women in tech is a critical issue as well, without a doubt, and I think the greatest lesson to be learned is that women have focused on uniting and standing up. And they've been bravely saying, "We deserve access. We deserve to be included. And we will not be ignored."
And I think that applies directly to the ethnic diversity component. There has to be a unification, a recognition by the diverse groups that "Hey, we are underrepresented and we have what it takes. And we're going to stand together and prove that. And however we can support each other, we're going to do that."
IBJ: Eleven Fifty CEO John Qualls is thinking about setting up shop downtown. Your thoughts?
SMITH JONES: I do think that's critically important. If you look at access, which is another barrier in some cases, being in the core of Indianapolis is so much easier to get to no matter where you live in the region. 
So I do think it's critical for Eleven Fifty to be in the core of Indianapolis. It is also one of (John Qualls') passions—to truly diversify his class makeup in order to help impact the pipeline for diversity for our tech companies.
So, I know tuition payments are real—you still have to pay tuition no matter what kind of training or certification you get. So that's another component that will have to be addressed. But just for people to even know that opportunity exists nearby is the first step.
Please enable JavaScript to view this content.