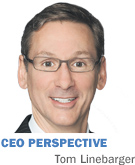 It is clear that globalization of our economy and the automation of manufacturing have left many U.S. workers behind. Unfortunately, much of the blame for these trends has been incorrectly put on international trade. For the employees of Cummins and the communities in which we live and work, international trade has been the single most important contributor to growth and hiring for nearly two decades.
Consider this: 95 percent of the world's consumers live outside the United States. Cummins employs 25,000 people in the United States and, for us to continue to be successful and add new jobs, it is imperative that we have the opportunity to reach these international consumers with our clean, high-quality and competitively priced products.
More than any other free-trade agreement, NAFTA has helped us compete for more customers. Over the past decade, we have added thousands of American jobs in cities like Minneapolis and Nashville, in smaller towns like Whitakers, North Carolina, and Jamestown, New York, and, of course in Columbus, Walesboro and Seymour, Indiana. In all these locations, we export some of our production, and in some locations, like Seymour, we export a majority of our production. Our ability to export while also serving the U.S. market is one of the primary reasons we built these plants in the United States.
The Ram truck is a great example. Cummins manufactures the engine for the Ram at our Mid-Range Engine Plant in Walesboro. We export it to Mexico where Chrysler assembles the vehicle, then it is imported back into the United States for sale. This helps make the Ram cost-competitive and successful. Its robust sales have contributed to significant growth for Cummins and allowed us to employ people at our Walesboro facility for more than 25 years.
Importing goods from Mexico also helps grow our economy and create U.S. jobs. On average, imports from Mexico include parts and other content that originated in the United States. That is because U.S.-made products are competitive in Mexico, and NAFTA ensures that our products cannot be taxed or unfairly restricted. In comparison, imports from China contain, on average, only about 4 percent of U.S. content.
Since NAFTA's bipartisan passage and enactment in 1994, overall trade has increased among the United States, Mexico and Canada exponentially. Cummins' two largest export markets are Canada and Mexico. Before the agreement, Mexico was one of the most protectionist countries in the world, with automotive imports facing high tariffs, coupled with several non-tariff barriers that severely hurt U.S. businesses' access to their 100 million consumers.
Over the past 23 years, our supply chains have become more integrated and specialized. Having access to economies of scale through our partners in Mexico and Canada enables U.S. businesses to achieve higher levels of success in a tough global market. For example, Mexico can produce castings for our engines or parts for our highly complex fuel systems at a lower cost, allowing us to build technology-leading products that can compete globally. Meanwhile, we are creating new and more highly skilled jobs at home to meet the increasing global demand.
When the administration begins renegotiating NAFTA later this summer, it is imperative officials take a comprehensive approach, because our foreign competitors are certainly not standing still. NAFTA has been beneficial for American businesses, workers and farmers, supporting more than 12 million American jobs annually. Nearly 41 million U.S. manufacturing, services and other trade-related jobs are tied to international trade. That's more than one in five jobs. And, from 2004 to 2014, trade-related jobs grew three times faster than overall employment.
There is no doubt we can make improvements to our trade agreements. That is why we are embracing the administration's renegotiation efforts and encouraging the modernization of NAFTA. We believe there is an opportunity to strengthen the 23-year-old agreement by incorporating trade, investment and related regulatory reforms; promoting digital commerce and cross-border data flows; ensuring fair U.S. competition with foreign, state-owned enterprises; and protecting U.S. intellectual property rights.
We have an opportunity as a country to provide a better trade framework for businesses and workers. This is challenging work, but I'm committed to doing my part. Cummins will celebrate our 100th anniversary in 2019, and I fully intend to make sure we're helping create jobs and strengthen communities across the U.S. for many years to come. To be as successful as possible, we have to be able to export our products to people in every corner of the world.•
__________
Linebarger is chairman and CEO at Cummins Inc.
 
Please enable JavaScript to view this content.