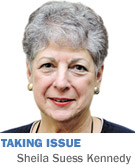 Business schools offer courses in leadership and academic institutes research leadership development. Although there is merit to these efforts, I remain somewhat skeptical that genuine leadership (as opposed to management skills) can be taught.
Since November, Americans have been reminded daily that effective leadership is neither conferred by nor the same thing as holding public office—even high public office. In the continuing circus that is Washington, D.C., no one in either the Trump administration or Congress has displayed the attributes most of us associate with authentic leadership: strength of character, the ability to communicate with and inspire a broad constituency, the willingness to tackle difficult problems with humility and grace.
Closer to home, fortunately, the leadership situation is better, as a recent, wrenching episode demonstrates.
In late June, Indianapolis joined the ranks of cities roiled by the fatal police shooting of an unarmed black man. The circumstances of Aaron Bailey's death are still under investigation, and we do not have the sort of contemporaneous video evidence that has accompanied other high-profile police actions. According to reports, Bailey was stopped for a traffic violation, sped away and crashed; when the police approached the car, Bailey was still in it. Something prompted officers to fire several shots into the car, killing Bailey, who was found to be unarmed.
Mayor Joe Hogsett could have chosen to be defensive in the wake of this situation—to respond to the protests and media coverage by arguing that IMPD and its officers were targets of a "witch hunt" and pointing out that the investigation was not complete. Instead, he asked for an independent investigation by the FBI and delivered a remarkable and eloquent speech in which he acknowledged not just the history and persistence of racial injustice and the distrust that such injustice has engendered but also his own accountability as mayor.
Words are important, but actions are more important. Hogsett followed the speech with a list of concrete changes that will be made to IMPD:
• The department will initiate training on implicit bias, bringing in experts who have worked with the Department of Justice. (Implicit bias refers to the unconscious social stereotypes we all hold of which we are unaware. Everyone has unconscious beliefs about various groups, because humans organize our social worlds by categorizing. Research has shown that unconscious bias is far more prevalent than conscious prejudice and that it's often incompatible with our conscious values. Stressful situations can activate these unconscious attitudes.)
• A Use of Force Review Board will be established to "review any incident where an officer resorts to the use of force to resolve the issue, be it a physical altercation, use of Taser, or use of firearm."
• An Office of Diversity and Inclusion will be created at the IMPD Training Academy to assess and evaluate the impact of training and operational policies on the community.
• The current training curriculum will be reviewed and evaluated.
• There will be a comprehensive review of the operations of the Citizens Police Complaint Board.
Obviously, follow-through will be important, but these are significant efforts to build accountability and earn the community's trust.
This is also what genuine leadership looks like—acknowledging a problem and moving thoughtfully and forcefully to address it.
The mayor's response reminds us that leadership requires maturity and good will; it is the antithesis of angry and defensive tweets, intemperate and childish insults hurled at critics, and efforts to divide people on the basis of skin color, ethnicity or religion.•
__________
Kennedy is a professor of law and public policy at the School of Public and Environmental Affairs at IUPUI. She can be reached at skennedy@ibj.com.
Please enable JavaScript to view this content.