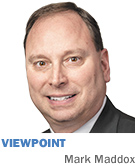 I woke up exhausted this morning. I think I'm super tired from all the unexpected winning I've been doing in Washington, D.C., the past six months. Let's briefly recount all the deals that were supposed to happen, but haven't, since President Trump's inauguration.
There is no deal for a wonderful, beautiful wall on the U.S.-Mexican border to be paid for by Mexico. There is no repeal and replacement of Obamacare. No budget deal with major cuts to the EPA and education. And no deal to address the debt ceiling, which is mandatory to keep the United States from defaulting on our securities. The so-called dealmaker president has been a deal breaker, unable to persuade even those in his own party to pass any significant legislation. On the Russian front, the daily drip, drip, drip of Trump-a-rhea moves the country closer to scandal and constitutional crisis.
Despite amateur hour in the White House, Trump's greatest legacy will be the conservative men and women he appoints to the federal courts. This is ironic given that, for most of his life, Trump was a Democrat and has acknowledged not having a strong ideological foundation for his political positions.
Most of the country watched Senate Republicans refuse to consider President Obama's nomination of Merrick Garland during his last year in office. This unprecedented obstructionism allowed Trump to appoint the 49-year-old conservative Neal Gorsuch to the Supreme Court. In his early decisions, Gorsuch has voted most closely with veteran conservative Justice Clarence Thomas. If his health doesn't fail him, Gorsuch will likely be a Thomas-like conservative justice for the next 30 years.
It is probably time for Congress to consider ending the lottery associated with the Supreme Court. It certainly brought out the worst in Senate Republicans in 2016 with the Garland nomination. With life expectancies under 50 years at the time our Constitution was drafted, it is highly unlikely any of the framers would consider it a good idea for Supreme Court justices to rule for 30 years. Some sort of term limits should seriously be considered.
With Senate Democrats defending twice as many seats as their Republican counterparts in the 2018 Senate elections, even an anti-Trump environment is unlikely to flip the Senate. With a receptive Republican Senate for all four years, this means Trump could get one or two more Supreme Court appointments during a first term. The court presently has four committed conservatives and four liberals. I've often referred to Justice Anthony Kennedy as the most powerful person in Washington and, at 81, he has been openly contemplating retirement. Ruth Bader Ginsburg is the old lion of the liberals. The 84-year-old Ginsburg has had health problems and isn't getting any younger. Assuming Trump would replace either or both with names from his previously published list of young, conservative candidates, he would shift the court as far to the right as we've seen in any of our lifetimes. And it would last a generation.
Somewhat unknown to most Americans was the obstructionism practiced by Senate Republicans for the last two years of Obama's term relating to the appointments of lower-court federal judges. There were only about 24 judges approved after the Republicans took over the Senate in 2014. When Trump took office, there were approximately 120 openings for federal judges. As a comparison, when Obama took office, there were about 54 openings. Trump's ability to appoint more than a hundred conservative federal judges to the lower courts and one to three conservative justices to the U.S. Supreme Court will probably be his greatest legacy. And it will forever change the course of law and history in America.•
__________
Maddox, a former Indiana securities commissioner, is managing partner of Maddox Hargett & Caruso.
Please enable JavaScript to view this content.