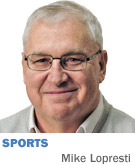 The first ATM machine.
The first heart transplant.
A Supreme Court decision that struck down laws against interracial marriage.
Oh, hello. Just making a list of what was going on in the world the last time Indiana went to the Rose Bowl.
The road to the second Super Bowl.
The creation of the Public Broadcasting Corp.
The first woman to run in the Boston Marathon, even as one of the officials, eager to keep the field all-male, tried to yank her out of the race after two miles.
Why bring all this up now? Couple of reasons. One, the Big Ten recently held its football media days in Chicago, so the season is nigh. Barely a month before the opener with—so much for appetizers—Ohio State. The Buckeyes' new offensive coordinator, you might recall, is Kevin Wilson. We won't need a bloodhound to find the big storyline that night.
And two, we're talking 1967, so hovering over this autumn in Bloomington will be the 50th anniversary of a season like none other.
Not that anyone is predicting an imminent Hoosiers return to Pasadena. That would require a breathalyzer test. Just a winning record would be nice, since the last one of those was 10 years ago. That's Tom Allen's charge. He was the new coordinator last season who lit a fire under the defense: 129 fewer yards a game and 25 fewer touchdowns allowed than in 2015. Then he moved up to the top spot upon Wilson's hasty exit.
Quite the journey Allen has taken from New Castle High School. Eleven stops are on the resume, including head coach at Ben Davis. Before that, he was a football and wrestling star at Maranatha Baptist University in Wisconsin, which has neither a football nor a wrestling program anymore.
Anyway, now he's cream and crimson, and certainly up on his 1967 lore, even though he wasn't born yet. "The bottom line is that it creates the visual picture of what you want," he said in Chicago.
Ah, '67. The Hoosiers went 9-1 during the regular season, seven of the wins by a touchdown or less. They finished in a three-way tie for first in the Big Ten, and got the Rose Bowl berth by a league vote, mostly because they had never been. Just guessing, but the Minnesota Gophers couldn't have been happy with the balloting, having beaten Indiana 33-7 in November and tied for first.
Anyway, the Hoosiers were off to Pasadena, where they would lose 14-3 to national champion USC because of two touchdowns by O.J. Simpson. Indiana finished No. 4 in the final Associated Press poll. Imagine that. Indiana No. 4.
A long time ago. How long? What 50 years mean …
There have been 10 U.S. presidents. Donald Trump was 21 years old when the Hoosiers left for Pasadena. Barack Obama was 6.
There have been 10 Indiana football coaches, and 10 winning seasons for the Hoosiers. Six of those belonged to Bill Mallory, which is a reminder of the IU folly in firing him, but that's for another day.
In 1967, Elvis Presley married Priscilla Beaulieu. John McCain was captured in Vietnam. Muhammad Ali was stripped of his heavyweight boxing title for refusing induction into the Army. San Francisco had its Summer of Love, attended by, among others, a troubled young man named Charles Manson, who had spent some time at a boys school in Indiana.
There were only 10 teams in the NBA. The Philadelphia 76ers won the Finals, the only year in an 11-season span from 1959-1969 that the Boston Celtics didn't win.
The Green Bay Packers were busy winning the first two Super Bowls, Vince Lombardi holding the trophy that would one day carry his name. One day before Indiana and USC played in the warm southern California sun, the Packers beat the Dallas Cowboys in the Ice Bowl at 13 degrees below zero in Green Bay.
The year Indiana last went to the Rose Bowl, an average house cost $14,250, a new car $2,750, a movie ticket $1.25, gas 33 cents a gallon. Minimum wage went up to $1.40 an hour.
Population in the United States hit 200 million. Nicole Kidman, Julia Roberts and Jimmy Kimmel were born. Current Indiana Gov. Eric Holcomb was in the womb. Actress Vivian Leigh and Jack Ruby, the guy who shot Lee Harvey Oswald, died.
The Indiana Pacers played their first game, beating the Kentucky Colonels 117-95 in a sold-out State Fairgrounds Coliseum on Oct. 14. It was a Saturday. The same day, Indiana edged Iowa 21-17 in Bloomington.
UCLA won the national championship in basketball with new star Lew Alcindor. The Big Ten representative in the 23-team NCAA Tournament was Indiana, coached by Lou Watson. The Hoosiers lost to Virginia Tech in the Mideast Regional, but came back to beat Tennessee in the third-place game.
And Indiana went to the Rose Bowl. In the 49 years since, Michigan has gone to Pasadena 16 times; Ohio State, 10; Purdue, once.
Yeah, it's been a while. The fact remains that 11 more men have walked on the moon than have coached Indiana in a Rose Bowl. You've probably heard the story about what Allen wrote on the chalkboard his first meeting with the players last winter. The numbers 50, 26, 10. Translation: 50 years since the last Big Ten title, 26 since the last bowl victory, 10 since the last winning season.
"We're going to accomplish all three of those, I told our team. If you don't believe that, you need to leave," he said in Chicago. "I want a coaching staff, I want a football team that believes."
Just like they believed in '67. Twelve years before there was such a thing as ESPN.•
__________
Lopresti is a lifelong resident of Richmond and a graduate of Ball State University. He was a columnist for USA Today and Gannett newspapers for 31 years; he covered 34 Final Fours, 30 Super Bowls, 32 World Series and 16 Olympics. His column appears weekly. He can be reached at mjl5853@aol.com.
Please enable JavaScript to view this content.