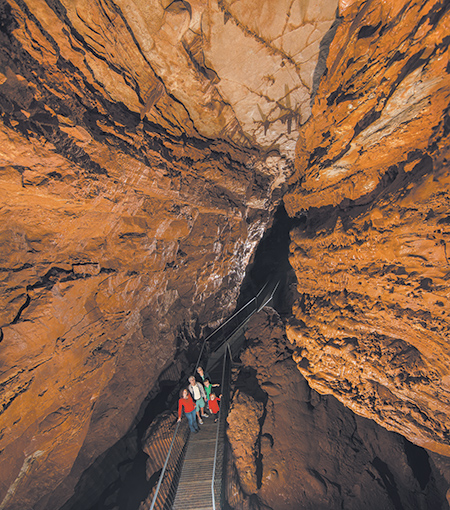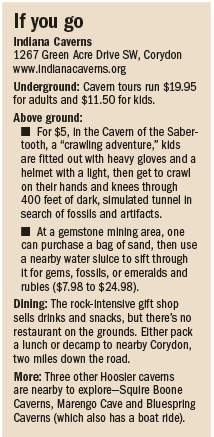 Indiana gets knocked for its perceived lack of natural wonders, but the truth is, we do indeed have some. They're just extremely well-hidden.
Case in point: Indiana Caverns, right outside the old Indiana Territory capital of Corydon, on the state's southernmost extremity. Opened in the summer of 2013, this relatively new underground attraction entertains thousands of visitors every year.
Though, of course, when one speaks of geological formations, "new" is a relative term. The subterranean wonders on display are one small section of the roughly 45-mile Binkley Cave system, Indiana's longest. Geologically speaking, Binkley has been "open for business" for quite a while. It formed before the last Ice Age, tunneled out by eons of water erosion.
Visitors start their excursion in the immaculate gift shop, where they watch a short orientation movie. The 90-minute tour begins with a roughly
110-foot descent down metal stairs to the cave proper. If you're all about stalactites and stalagmites (those pointy cave formations created by the relentless dripping of mineral-filled water) you might be disappointed, because Indiana Caverns doesn't have all that many.
However, as management is quick to tell you, it has other charms. Like, for instance, massive underground rooms, one with a 35-foot waterfall.
Though the place does offer plenty of wide-open spaces (certainly more than this traveler expected to find so far underground), in some areas the path becomes so constricted that visitors have to duck to get through. Indeed, though the route is smooth and railed, there are enough ups and downs (and staircases) that strollers are banned.
Likewise, if you are mobility-challenged, the tour might be problematic. However, management states that 90-year-olds have made the journey, and that there are enough stops and starts along the way that everyone has plenty of time to catch their breath—or to catch up.
"It's not like it's power walking," said one gift shop worker. "If you can make it up and down three flights of steps at an apartment building, you'll be fine. Just don't wear flip-flops."
The extremely well-informed tour guides also periodically turn off the lights to give you a feel of what absolute, abyssal darkness feels like. In case you ever wondered.
To no surprise, the cave is quite damp (running and dripping water is pretty much everywhere) and smells somewhat like a flooded basement. And, also like a basement, the temperature is a constant 56 degrees Fahrenheit. This feels wonderful when you first descend from the hot, humid surface, but it quickly gets old if you neglect to bring a jacket. Which you should not neglect to do.
The first leg of the tour contains such wonders as the aforementioned waterfall, plus the Big Bone Mountain Room, so named because, when discovered, it was packed with the bones of prehistoric animals that wandered into the cave over the centuries and expired. Remains of those unfortunate flat-headed peccaries, bears and porcupines can still be seen. One might even spot paleontologists sifting through them, looking for fresh finds.
The middle portion of the tour is the most unique—a 25-minute boat ride down an eerily calm underground river. Conducted in large-ish flat-bottomed boats, it's a great opportunity to get to know the cave's flourishing underground ecosystem. Indiana Caverns is home to almost two dozen troglobites (species adapted to living exclusively in caves), making it one of the richest such environments in the world. Be advised, however, that every single member of said ecosystem looks (at least to this amateur spelunker) like some sort of Lovecraftian hell spawn, from the eyeless, albino crawdads to the eyeless, albino fish to the eyeless, albino millipedes.
The tour finishes with another short walking portion. Then guests ascend the same three-story flight of stairs by which they entered—back to the blazing hot, absurdly over-lit (at least by comparison) surface world.•
Please enable JavaScript to view this content.