It's been called the buffet approach to health care. And in Indiana, the buffet line could soon get longer if more doctors and patients are attracted to a membership plan picking up steam under a new law.
For a flat monthly fee, usually $50 to $100, patients can go to their primary care doctors for an unlimited number of exams, basic lab tests, generic drugs and vaccinations, without dealing with any insurance claims or co-pays.
The concept, called direct primary care, is meant to help patients and doctors spend more time together. Without dozens of insurance claims to file and follow up every day, physicians could cut administrative overhead, reduce costs and keep their practices limited to a few hundred patients, rather than a few thousand.
Nationally, fewer than 2 percent of the nation's primary care doctors offer a membership plan. In Indiana, several dozen physician practices around Indiana use the monthly subscription model. But advocates hope that will grow under the new law, Senate Enrolled Act 303, that passed unanimously this year through both houses of the General Assembly.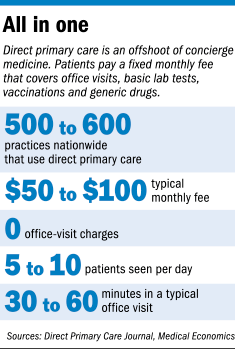 The law, which takes effect this month, clarifies that the monthly-fee agreements are not insurance, and that primary care providers do not need to get a certificate from the state Department of Insurance to offer the plan to patients.
The bill's primary author, Republican state Sen. Eric Koch of Bedford, said some physicians were daunted by possible regulatory hurdles, and were hesitating to change their practices to a monthly-fee model without such a law.
"We wanted to open the door to more providers to make the decision to practice under this model," Koch said.
The law also includes several consumer safeguards, such as requiring all agreements to state the monthly fees and describe the scope of services covered, to prohibit doctors from collecting more than 12 months of advance payments, and to allow either party to terminate the agreement.
Another goal, Koch said, was to lower the price of primary care. Nationally, direct primary practices claim to reduce overhead more than 40 percent by eliminating administrative staff associated with third-party billing, according to a 2015 study in the Journal of the American Board of Family Medicine. That helps reduce cost for patients in the form of affordable monthly fees, the journal said.
Indiana became the 21st state to pass such a law, perhaps reflecting growing support for a free-market approach to health care. Some physicians who have adopted the membership plan say they had been weary of dealing with the insurance system, which, in effect, forced them to keep volumes high and patient visits short.
Dr. Napoleon Maminta, an osteopath who specializes in internal medicine, said he often had to see 25 to 30 patients a day when he worked for St. Vincent Health, limiting most visits to 15 minutes.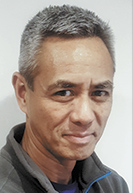 Maminta
"If you took longer, you would fall behind," he said. "You had to keep up high volumes to generate the money that pays for all the office staff and the people at the top."
Last year, Maminta left St. Vincent and opened a small Noblesville practice called Naptown Priority Health. So far, he has signed up 105 members, who pay an average of $100 a month for unlimited visits. The fees generate more than $10,000 a month, which Maminta said is enough to pay him and his one employee, a front-office assistant. As the practice grows, so will revenue, he said.
"Every patient who comes to see me gets a 45-minute window," he said. "I don't have to rush through the visits."
The American Academy of Family Physicians supports the membership model, saying it provides a "meaningful alternative" to fee-for-service insurance billing.
"Direct primary care benefits patients by providing substantial savings and a greater degree of access to, and time with, physicians," the organization says on its website.
Patients covered by direct primary care still need insurance to cover hospitalization or other expensive procedures; in addition, some form of health insurance is required by the Affordable Care Act.
But direct primary care advocates say the patients still usually save money under the membership model, because they don't have to dig into their pockets for co-pays or high deductibles. Most times, they come out ahead, said Adam Habig, president and co-founder of Freedom Healthworks, an Indianapolis company that helps doctors work outside the insurance system.
"When it comes right down to it, insurance is a financial product that is driven by the underlying price of the services it's underwriting," he said. "What we say to patients is, 'You will know exactly what you're going to pay upfront. You will never be surprised by a bill. You can very predictably budget your health care for a year when it comes to primary care,' which is the majority of what most of us need in a given year."
His company, founded last year, offers services to doctors that help them establish a pricing structure and drive patient enrollment. He has six employees and serves physician practices with a total of 1,200 patients. He expects to have 12 practices on board with 6,000 patients by the end of the year.
Some experts said they wouldn't be surprised to see more doctors and patients move to the membership model.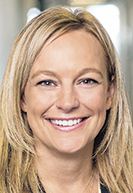 Walker
"It is still a small sector, but given some of the traction it's getting, I think it has legs to go much further," said Elizabeth Walker, a health care consultant and chief strategy officer with Quorum Health Resources.
Still, there's no guarantee that such membership models work. In May, a Seattle-based chain of clinics that offer basic medical treatment on a monthly membership basis closed after a decade of offering low-cost care without insurance.
The chain, called Qliance, had built a practice of 13,000 members and had been backed by big money from investors that included Amazon founder Jeff Bezos and Zillow Chairman Rich Barton. Qliance's CEO, Dr. Erika Bliss, told the Seattle Times the company "ran up against overwhelming financial difficulties and was unable to continue."
Yet advocates, such as Sen. Koch, say they have heard growing support for membership plans, and expect the movement to grow here.
"When I talked about this in town hall meetings, I heard a great deal of interest," he said. "Now that we have brought regulatory clarity to the industry, I think patients will be more comfortable entering into these agreements."•
Please enable JavaScript to view this content.