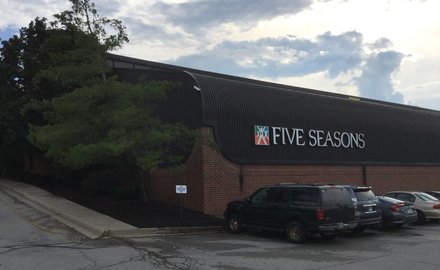 Five Seasons Family Sports Club is planning to close Sept. 30, more than 20 years after opening in Carmel.
Plans for the closure were disclosed Monday in a letter to the Indiana Department of Workforce Development.
The letter said the closure would be permanent and cost 84 employees their jobs. Most of the workers are part time and have positions involving "tennis, fitness, pool, child care, maintenance, housekeeping and cafe," the notice said.
The decision comes a year after the owner of the club filed a request with the city of Carmel to rezone the 15.4-acre property to allow for possible redevelopment as an office park. The city granted that request in November.
Andrea Calvert Sanders, chief club officer, was not available to discuss the closure Tuesday night.
The club, which opened in 1996 at 1300 E. 96th St. as Five Seasons Sports Country Club, is part of a small chain of clubs owned by Covington, Kentucky-based Corporex Cos.
The club ranks as the 16th-largest health and fitness club in the Indianapolis area, according to IBJ research, based on its active membership of 1,300 in 2016. Promotional materials for the club say the facility has 16 tennis courts, indoor and outdoor pools, a cafe and bar, child care facilities, racquetball, squash and basketball courts, and meeting facilities.
Membership has fallen from about 2,100 a decade ago amid growing competition in the industry from national players such as LA Fitness and Planet Fitness.
The first Five Seasons club was founded by Corporex in 1988 in Crestview Hills, Kentucky. It initially operated as Four Seasons, but the owners later changed the name to avoid confusion with the high-end Four Seasons hotel chain.
Corporex added several clubs over the next decade in the Midwest, but never got close to their original five-year goal of developing 30 clubs nationwide.
Corporex also operates Five Seasons locations in Northbrook and Burr Ridge, Illinois, and Cincinnati and Dayton, Ohio. A location near Cleveland closed in 2013.
In July 2016, Corporex asked Carmel officials to rezone the local site from R-1 residential to allow for a planned unit development district.
The submitted plans included renderings for two configurations of the property, each calling for at least 295,000 square feet of office space and a multi-level parking garage with at least 1,300 spaces.
Tom Banta, managing director of Corporex, told IBJ at the time that the plans were meant to be conceptual—intended more to illustrate the character of a possible development—and were submitted to fulfill a requirement for seeking rezoning.
At some point, we might [redevelop the site]," Banta said. "The owner just wanted the zoning to be consistent so, if down the road we do something, we can."
Please enable JavaScript to view this content.