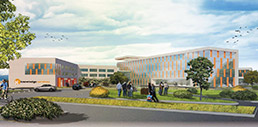 Workforce-management technology firm Knowledge Services, currently operating out of Castleton, plans to build an 80,000-square-foot headquarters in Fishers and hire 400 employees by the end of 2021. (Rendering courtesy of Knowledge Services)
Technology firms accounted for nearly one-third of job commitments announced by the state so far this year, the highest share among all industries.
The Indiana Economic Development Corp. said that, from Jan. 1 to July 14, 39 tech and tech-enabled firms committed to hire 5,266 workers in the state in coming years.
That's almost 30 percent of the 17,823 job commitments over that span. Manufacturing had the second-most commitments, 4,967.
The tech sector got a huge boost from the India-based consulting firm Infosys, which announced in May that it will add 2,000 jobs in Indiana by 2021. Other jobs announcements this year came from the workforce-management technology firm Knowledge Services (400 jobs), the insurance-tracking-software firm myCOI (185) and the customer-relationship-management consultancy Levementum (175).
The number of tech-industry-job commitments so far this year exceeds the total for all of 2016, when 43 firms committed to hire 5,236 Hoosiers.
The 2017 tech-job promises are expected to pay an average hourly wage of $33.36, about 83 percent higher than the state's average wage of $21.52 an hour.
Overall, IEDC said, the almost 18,000 positions announced in 2017 are expected to pay an average hourly rate of $28.60, or more than $59,000 annually. That's 33 percent higher than the state average.•
Please enable JavaScript to view this content.