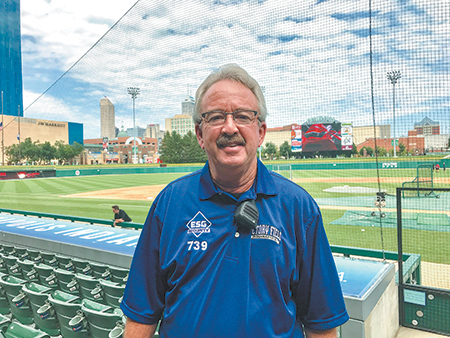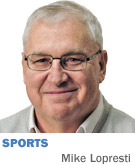 You've probably noticed them, the faces who grow familiar at the stadium. The vendor, the usher, the security guard. The people who help make the games go, roaming from one venue in town to another, dedicated vagabonds in uniform. The idea was to pick one as an example of the life they lead, but whom?
How about the guy who was working a Butler basketball game five days after he had a stroke?
Bill Hoke is 62 years old and mans the security detail at Hinkle Fieldhouse. And when he isn't doing that, he's working the Fuel hockey games at the Coliseum. Or is it the Indians at Victory Field? Butler football? The Speedway? The occasional Pacers game?
"You're not going to get rich doing it," he said before a recent Indians game. "But you meet a lot of people, and it's a lot of fun."
Obviously. He's at it maybe 160 days and nights a year. It is a schedule understood and supported—if not always enthusiastically—by wife Debbie. It wasn't quite like this when he was an insurance agent for a living.
"Sometimes," he said, quoting his wife, "it's … 'If you want to work, go ahead; I guess I'll find something else to do.'"
But he has her blessing. Well, except for last month, when he signed up for a Saturday night at Victory Field. Something about the date rattled around his head. Oh, yeah. His 39th wedding anniversary.
"I kind of heard about that. I got the look. I think it's all OK now," he said. Especially when he put in a hurried request for the night off. Good idea.
There are several arena-to-arena faces such as Hoke's in town. It's possible to buy a beer at a Colts game, a Pacers game and an Indians game, all from the same guy. They earn a few bucks, but the appeal comes from the connection to the public. The chance to make friends is precious.
A traveler such as Hoke learns the nuances of each crowd.
"Butler fans are an older group. Hockey is a little crazier. They're loud, they pound on the glass. Most people will do what you ask. Sometimes it just takes a look. Indians people, this is just laid-back, family, easy, nice. We don't have problems here."
He also picks up a few stories. Take Butler's win over No. 1 Villanova last winter. His station is a corner of the court near the Bulldogs bench, where he became a pregame ritual for a certain departed coach. "Coach Holtmann always walked in, shook hands, patted me on the shoulder and said, 'I'm glad you're here.'"
About the Villanova game, which included a court-storming at the end. "We were told to try to hold the floor. Try not to let anybody out. So I was facing the crowd, trying to say, 'We're not going on the court,' and when I looked over my shoulder, the court was full. That didn't go very well. You're not going to control 9,000 people when Butler beats Villanova."
One of his duties at Indians games is to follow every pitch, for he is the warning bell when a fan is struck by a foul ball.
"One night we had a foul ball down the third base line, a line drive—it hit a little girl in the side of her head. You hear the crack of the bat, you hear the crack of the ball hitting her head, and the ball ended up in the upper deck. She actually walked out of here and was back the next night for the game."
There was race day at the Speedway, when he was working an entrance on Georgetown Road.
"We had two heart attacks at the gate. Same time. This is an hour and a half before the race starts. There's a mass of people trying to get in, and the crowd doesn't know what's happening. They're like, 'Why can't we go in?' The medics are trying to get in; it was total chaos."
Both victims ended up fine, by the way.
There are the concerts.
"I walked Frankie Valli of the Four Seasons out of the Murat Theatre one night. I felt very big, because he's so short. I actually had my hands on his shoulders as we walked out. I'm 5-8. Frankie is 5-whatever. I felt like I was the big security guy."
There was the night last winter he started feeling unwell at home. He put off any trip to the hospital, but finally relented. Minor stroke, it turned out. That was a Friday. The next Wednesday, he was in his corner spot at Hinkle Fieldhouse.
"I missed one basketball game at Butler this year, and it wasn't for that. If I'm going to have something else happen, I could have it watching the game, or have it at home watching on TV. It's my choice to be there."
It's his choice to be nearly everywhere. That included the stormy night in 2011 when the State Fairgrounds stage collapsed before a Sugarland concert.
"I was very lucky. I went to get a poncho and was behind a trailer. As I started back, the whole stage was coming at me. I'm not fast enough to get that far away quick enough, so I got back around the trailer, and it came down on the trailer."
He was working a VIP section near the stage, issuing wrist bands to patrons so they could enter and exit. Five of the people he wrist-banded died that night.
"It's still in your mind," he said. "Still etched. I can see it now."
That was the worst night. So many more have been great. It's what he—it's what they all—love to do. Stroke? What stroke?•
__________
Lopresti is a lifelong resident of Richmond and a graduate of Ball State University. He was a columnist for USA Today and Gannett newspapers for 31 years; he covered 34 Final Fours, 30 Super Bowls, 32 World Series and 16 Olympics. His column appears weekly. He can be reached at mjl5853@aol.com.
Please enable JavaScript to view this content.