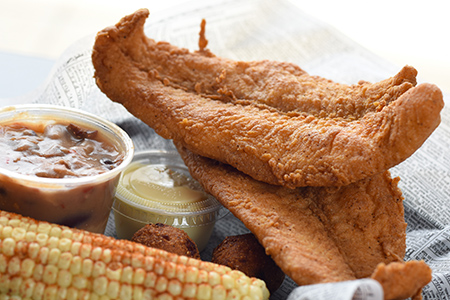 Skepticism is understandable when it comes to seafood dining in the Midwest. Given our lack of proximity to sea creatures' homeland, it's easy to assume that quality denizens of the deep blue sea can arrive on our plates only via high-end restaurants.
A visit to the new, third location for local seafoodery Caplinger's Fresh Catch (6685 Whitestown Parkway, Zionsville, 317-288-7263) effectively disproves that idea. After months of being asked if I've been to Caplinger's Fresh Catch—either the spot in Noblesville or the location at East 74th and Shadeland—I finally dove in. And was glad I did.
First, know that Caplinger's is both a fish market and a restaurant. A surprisingly wide array of fresh seafood offerings is available to cook at home. In addition to mussels, gulf shrimp, and yellowfin tuna steaks, there's also escargot, octopus and alligator. Got a special request? They'll try to track it down for you.
The dining menu is just a starting point. If you see something you like in the fresh-fish cases, they'll prepare it. That can mean a slight wait if you hit during a rush—patrons order at the counter—but it's worth it.
We stuck with the menu and tried a range of off-the-rack offerings. Clam "Chowda" ($5.99) arrived happily overpopulated with clams in a rich, creamy broth. Outside the bowl and broth, the Clam Strips ($4.99 as an appetizer or side) might surprise those accustomed to Long-John-Silver-size atrocities. Finger-length and crunchy, the breading never seemed to be trying to overcome the shellfish it covered. Fried Shrimp ($4.49) were equally substantial and satisfying.
Most entrees come with a pair of sides, a sauce, and a pair of hush puppies that left us searching the platter in hopes of finding a stray or two hidden away somewhere. Caplinger's Special Dinner ($10.99) offers a pair of substantial planks of basa, a Vietnamese catfish that earned its restaurant popularity in part because it's easy to descale and debone, and has little odor. The thick filets work here, covered in a crunchy but not too thick breading.
Calamari Steak Dinner ($10.99) retained the flavor of traditional calamari but with a major textural difference. Instead of the tentacles of primarily breading that define it elsewhere, a calamari steak consists of the squid body split and flattened. The resistance the meat offers takes some getting used to—and I don't think, given the other options, I'd order it again—but there was no denying the quality.
Green Beans, Mac & Cheese, and Red Beans & Rice sides were small, just fine, but unmemorable, clearly not drawing attention away from the star attractions. I appreciated that the Old Bay seasoning was used judiciously on the Corn on the Cob.
To round things out, we happily picked at a sizable piece of the housemade Pineapple Bread Pudding ($4.99), a doorstop of goodness bathed in a vanilla sauce. Given the size of the meal, one was plenty to share.
The amenities are what you might expect at a seaside tourist spot. The food arrives in baskets and you are on your own to get plastic ware, napkins, extra seasoning and condiments. Besides missing some oyster crackers to crumble into my soup, nothing about the meal left me wanting.
Welcome aboard my dining rotation, Caplinger's, and here's hoping the expansion continues to a whole fleet. I'm hooked.•

Please enable JavaScript to view this content.