Vice President, Technology and Operations
United Way of Central Indiana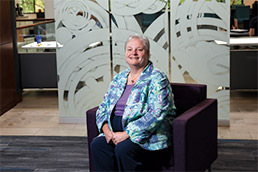 (IBJ photo/Eric Learned)
MAJOR ORGANIZATION ACHIEVEMENTS DURING TENURE
Downton and her team converted analog phone system to VOIP and switched ISP vendors, adding up to $50,000 a year in savings for the community service organization. She also moved its customer relationship management database to a new host, shifted help-desk support to an outside vendor who could provide multilevel tech support, and created a comprehensive, documented network management solution set.
RECENT TECH PROBLEM SOLVED
"We recently relocated to a new office so our entire network had to be reviewed, configured and purchased for the new space," Downton said. "At the same time, we converted all users to mobile devices so they could move around the office and the community more freely."
DEPARTMENTAL EVOLUTION
"We had an IT department when I started, but a few years in, United Ways decided to form UPC—United Processing Center—and all IT support was farmed to Cincinnati. Most of our systems were not current, no software was up-to-date, our network was too vulnerable. I felt UPC wasn't providing the services we needed and the knowledge wasn't sufficient. So the CFO and I decided we wanted to find local support that could bring an array of knowledge in terms of network tech and needs. We severed that relationship and brought more of a presence to this location."
ON THE INCREASED PRESENCE OF WOMEN IN IT
"I remember the days at Purdue when I was the only woman in some of my tech classes. When I get to events and see a room full of women, I'm very happy and encouraged."
FIRST COMPUTER
"My first computer was my HP calculator."
EDUCATION
Downton has a bachelor's in chemical engineering from Purdue University.
THE ROAD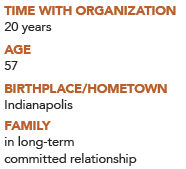 Downton took an unusual path to heading an IT department. After college, she went into quality assurance in nuclear power at the Palisades Power Plant in Michigan. "I missed home, so I joined the Indiana Utility Regulatory Commission's Gas Division and eventually became the principal gas engineer." From there, she became director of operations for two smaller gas utilities in southeastern Indiana before shifting her career path. "My soul kind of ached," she said. "I was looking for something that satisfied the other side of my brain." She joined United Way as a loaned executive, calling on new business prospects. She officially joined the team in 1998 as a fundraiser, then campaign director, before moving into the IT slot. "At United Way, I can still use analytical skills and my engineering background and learn new things while feeling really good about what we do and why we do it."
MENTOR/INSPIRATION
St. Francis of Assisi: "For it is in giving that we receive."
GO-TO-WEBSITES
Google, YouTube, The Verge
FAVORITE GADGET
Samsung smartphone
MY JOB WOULD BE EASIER IF …
"Technology wasn't changing at the speed of light and I wasn't getting older."
Check out more CTO honorees.
Please enable JavaScript to view this content.