Vice President of Technology
Elwood Staffing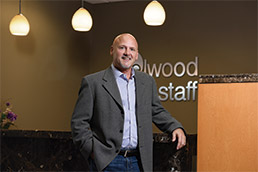 (IBJ photo/Eric Learned)
MAJOR COMPANY ACHIEVEMENTS DURING TENURE
Flora led a team that handled integration and transition as the company doubled in size to more than $700 million in revenue. "Elwood had acquired a company equal in size and completely opposite in technology strategy," he said. "What IT guy doesn't want to jump into the middle of that?" The company moved to a single applicant-tracking system platform, a single accounting platform, and a single collaboration platform.

CHALLENGE FACED OR ACHIEVEMENT THAT ONLY TECH PEOPLE WOULD UNDERSTAND
"Many challenges in this category come from the back end, or underpinnings, of our systems that users never see but rely upon every day," Flora said. One such challenge: Connectivity when two data centers andover 200 locations feed off services in data centers and in the cloud. "As we increase our use of technology, we become ever more dependent on that network. The challenge has been to find cost-effective and secure ways to meet those needs." The approach: "Replace DSL and T1 with business-class broadband and implement a new security system and network infrastructure that supports the creation of secure transport and enables content classification. Allowing prioritization of traffic at each access point ensures we better utilize the bandwidth resources we have at each location. It gives us a single pane of glass for network and security management, reducing administrative effort, and provides secure and manageable Wi-Fi at every location."

FIRST COMPUTER
Flora was given a Sinclair ZX81 by a family friend and early mentor during his first year of high school. "Progressing from looping a print 'hello,' to simple games, to finding out I could connect a cassette player and load programs other people had written, it was the gadget that opened my eyes to the possibilities." That led to his study of computers at a vocational school during his high school years.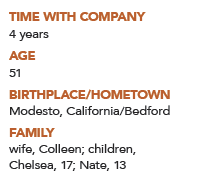 EDUCATION
Flora has a bachelor's in computer science/business from DePauw University.

THE ROAD
Photography and tech interests came together when he joined Shepard Poorman Communications (later Graphic Arts Center, MailWell, and Cenveo). "Starting as a programmer with this smallish private printing company, I was handed a stack of Oracle books and asked to 'learn this.'" He did and stayed with the company through various permutations for 17 years, taking on greater responsibility and eventually leading corporate IT. In 2005, he moved to Standard Management Corp. and, in 2010, jumped to a startup. The position at Elwood opened up in 2013. Flora finds the daily commute from Indianapolis to Columbus "worth it each day to work with good people focused on working together to be better each day."

GO-TO WEBSITES
Google and YouTube. "You learn to do just about anything from these two sites." He also tunes into the podcasts "Stuff You Should Know" and "How I Built This."

FAVORITE GADGET
His Amazon Echo. "The grocery list feature alone makes it cool."

MY JOB WOULD BE EASIER IF ...
"the world would slow down … but that wouldn't be any fun."

Check out more CTO honorees.