Director of Technology
John Boner Neighborhood Centers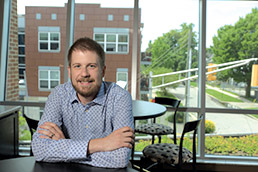 (IBJ photo/Eric Learned)
MAJOR ORGANIZATION ACHIEVEMENTS DURING TENURE
Before Belsaas arrived, the John Boner Neighborhood Centers—dedicated to improving quality of life on the near-east side—outsourced IT services. "They hired me away from the outsourced company," he said. "Looking back, the growth rate has been exponential. The annual budget. The number of people served. The number of devices on the network. Growing from one facility to three, plus satellite locations. There has been growth in every direction."
RECENT TECH PROBLEM SOLVED
In order to meet funding challenges, Belsaas drafted a business plan for offering IT services as a subscription model for other not-for-profits doing similar work. "We now have IT agreements with two other agencies, decreasing the financial burden for JBNC," Belsaas said. "We plan to double our customer count by the end of 2017."
FIRST COMPUTER
A Macintosh SE. "My dad was a public-school band director and we usually had a Mac at home. In the mid-1990s, we became a test market for cable internet, which coincided with the rise of Napster, and computers became one of my favorite hobbies."
EDUCATION
Belsaas has a bachelor's and master's in telecommunications from Ball State University.
THE ROAD
Attending Ball State on a music scholarship, Belsaas thought he would be a band director like his father. The state "Common Core [education standards] came out when I was going to start teaching and I said, 'Forget this.'" He switched to telecommunications; freelanced in video, sound and animation; and landed his first post-college job at CD/DVD manufacturer World Media Group, straddling creative and management. (Projects included creating a cassette reproduction for a Pearl Jam anniversary box set.) He became client information manager for Port-to-Port Consulting, growing into the company's Common Information Model role and technical staff manager.
MENTOR/INSPIRATION
His wife. "She inspires me each day to find joy in what I'm doing, whether it's tearing out the carpet in our 130-year-old home or helping someone learn to use a computer for the first time."
GO-TO-WEBSITES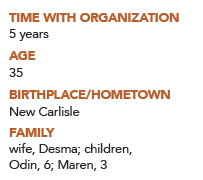 Gizmodo, Lifehacker, Slickdeals, Amazon
FAVORITE GADGET
"I can't possibly narrow it down to one. Do I have to? Smart Homes are pretty common these days, but I started with [internet of things] appliances back in 2013," he said. "I backed the first-generation Pebble smart watch in 2012 and still wear one of those today. I backed Eero Home Wi-Fi before they were available for retail sale."
MY JOB WOULD BE EASIER IF …
"We stopped growing as a community center! Honestly, it's the best kind of problem to have, and it keeps me on my toes. From Promise Zone to Best Babies Zone to Great Places to (hopefully) Promise Neighborhood, we are always going after the big kahuna that will help provide meaningful change to the quality of life for our near-east-side neighbors. I'm so proud to live and work in this part of the city."
Check out more CTO honorees.
Please enable JavaScript to view this content.