Vice President/Chief Information Officer
Cummins Inc.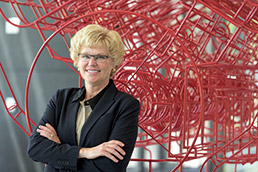 (IBJ photo/Eric Learned)
MAJOR COMPANY ACHIEVEMENTS DURING TENURE
At engine giant Cummins, IT has had a major shift in resource allocation. "Historically, over 85 percent of the IT budget had been spent on keeping legacy systems running, only allowing for 15 percent of the budget to be spent on new technology to support business growth and advancement," Aaholm said. "Over the past four years, we have shifted this to a 70 percent/30 percent ratio." How? "Through modernization of applications, consolidation of technology sprawl, and even eliminating applications." There has also been a stronger push into digital. "Simultaneously, we have been moving our 400-plus application portfolio from Columbus to our new Chicago shared data center facility using a modernization approach—meaning we modernize the applications to the current technology standards or deactivate them if the use is low, all before moving the apps to the new facility."
CHALLENGE FACED THAT ONLY TECH PEOPLE WOULD UNDERSTAND
"We now have telematics on many of our new engines, and are expanding that around the world. Telematics has opened up opportunities for us to provide insights to our customers for better engine performance, maintenance through advanced analytics and artificial intelligence—and now we are looking at how to use that information to change how our customers interact or experience Cummins."
FIRST COMPUTER
A portable Compaq with floppy drives. "It was like lugging a portable sewing machine around. It belonged to the CFO at Schneider National, and he would give it to me at night so I could run Fortran programs that had been written to help with profitability analysis. During that time, I was in the marketing department and was asked to help with operational analysis on driver domicile, equipment utilization (tractors/trailers), andcustomer profitability. I learned Fortran, C and SAS through this work."
EDUCATION
Aaholm has a bachelor's in marketing/economics and sustainability, from the University of Wisconsin, Green Bay.
THE ROAD
Aaholm started working when in college as a full-time employee with Schneider National/Schneider Logistics in Green Bay. From there, she moved to Atlanta to work as vice president of information technology for GeoLogistics, then hopped to Memphis for a vice president position with FedEx Services. It wasn't until then that she returned to college and completed her undergraduate work.
MENTOR/INSPIRATION
Her mentor, Rob Carter, CIO at FedEx, "always believed in my abilities, empowered me, and always pushed me to take chances." As for her inspiration, that's her mother. "I watched her overcome personal obstacles—my father's sudden death, the fire on the family farm, her going back to school in her late 40s to get her GED and then college degree, working full time as a graphic artist," Aaholm said. "She taught me not only the value of hard work, but [that] if you believe in yourself and are committed, you can overcome anything."
GO-TO WEBSITES
Gartner, World 50 (for CIOs—"I like to understand what the peer group is doing in the industry"), and WSJ. "And then of course you get into the CNN and Facebook addictions …"
FAVORITE GADGET
Amazon Echo
MY JOB WOULD BE EASIER IF …
"I could figure out how to do virtual travel. I find incredible value not only seeing people face to face, but seeing things from different cultural and business perspectives around the world—and the power of collectively sharing these insights can lead to really innovative ideas."
Check out more CTO honorees.
Please enable JavaScript to view this content.