CTO
First Merchants Bank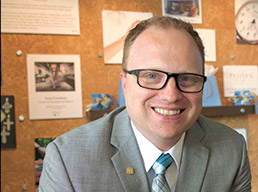 (IBJ photo/Eric Learned)
MAJOR COMPANY ACHIEVEMENTS DURING TENURE
"In 2014, we were in a growth mode and our ability in IT to innovate and solve problems was going to diminish if we didn't start to make adjustments," Butler said of First Merchants, the largest financial services holding company in central Indiana. "We created three teams: software development, IT governance, and cybersecurity. The software development has saved a lot of money on smaller-scale internal initiatives that allow us to help the business automate the boring stuff and focus on growing the company. Several of the larger platforms built by the software deployment teams have solved issues such as small-scale and rapid-design workflows, user-identity access management, and automation scripts that save days of work."

CHALLENGE FACED OR ACHIEVEMENT THAT ONLY TECH PEOPLE WOULD UNDERSTAND
"We recently started to struggle with pulling various systems together," Butler said. "We explored tools like BizTalk and others, but found that the foundational issues with what you had to do were all still programming and seemed to create overhead that we didn't want in our support or development teams. So, we designed our own middleware framework, which basically is a model for using PHP, CodeIgniter/MVC Architecture, SQL, interconnecting APIs, and some other concepts that allow us to bridge between systems in a fast and standard way. We called the framework Olympus."

FIRST COMPUTER
When Butler was 2 years old, his father, a Ball State professor, brought home a Franklin Ace 100 and wrote a program they called "Turtle Race" to teach typing. "Obviously, I was not very good at it until a few years later."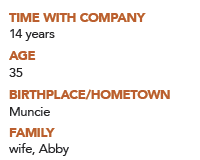 EDUCATION
Butler has a bachelor's in management information systems and an MBA from Ball State University. He is working on a master's in predictive analytics from Northwestern University.

THE ROAD
Butler started with First Merchants as an intern in project management. In 2005, he was planning a move to California to ride the tech boom there. But his boss offered him a position as an applications analyst and, weighing the cost-of-living differences, Butler decided to stay in Indiana. "I thought it would be two years until I'd move but, in my first year, I was promoted to help mentor new talent, and soon after became a supervisor, where I got my first taste of leadership." In 2008, he was given a chance to build a business intelligence program and soon found other IT functions added to his plate. "In 2014, I was presented with the offer to lead technology as the CTO, and I jumped at the chance."

GO-TO WEBSITES
"Anything Google—Search, News, Scholar, etc.—plus Linkedin, Kaggle, TechCrunch, HBR, and Stackoverflow."

FAVORITE GADGET
His Samsung watch or his drone. "I'm not very good at flying it. I've rebuilt the entire thing twice because I've broken the propellers and the motor."

MY JOB WOULD BE EASIER IF ...
"I could better understand people, their motives, communication styles, and engage in intimate problem-solving techniques that would allow me to go beyond just scratching the surface of their challenges."
Check out more CTO honorees.