Chief Information and Technology Officer
Indiana Public Retirement System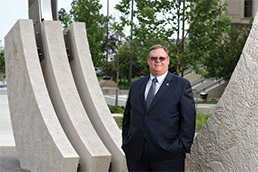 (IBJ photo/Eric Learned)
MAJOR ORGANIZATION ACHIEVEMENTS DURING TENURE
The Indiana Public Retirement System, with $29.9 billion in assets under management and 462,000 members, recently completed a multi-phase, multi-year modernization program to replace its core business systems. "We now are using modern Oracle-based technologies and packages to support our retirement stakeholders," Hineline said. "One component, the implementation of our Employee Reporting and Maintenance system, completely changed our ability to deliver timely services for our employers and members."
RECENT TECH PROBLEM SOLVED
"Our bigger challenges for IT are in the people side of our work efforts. We have to be change agents for our businesses. Today, almost every company is a technology company. Any significant change includes technology as part of the change."
CHALLENGE FACED OR ACHIEVEMENT THAT ONLY TECH PEOPLE WOULD UNDERSTAND
"We recently started utilizing newer technology for us by deploying Service Oriented Architecture, Service Bus and Business Process Management tools."
RISKY BUSINESS
"In financial services, we always look at risk," said Hineline, advisory board member for the Computer and Information Technology program at IUPUI and the Eleven Fifty Academy. "My biggest risk is finding and retaining talent. We're trying to figure out a new method of delivering resources into the pool with a shorter timeline than a two- to four-year college degree."
ON CHANGING TIMES
"Back then, the computers were expensive and the people were cheap. It's completely reversed now."
EDUCATION
Hineline has a bachelor's in business administration with distinction from Indiana Wesleyan University.
THE ROAD
Past stints include Purdue University, Citicorp, Macmillan Publishing, and a unit of Anthem Inc. Hineline served as chief information officer for the city of Indianapolis and Marion County and also held leadership roles at Quest Information Systems and OneAmerica Financial Partners.
FIRST COMPUTER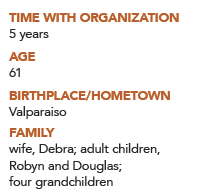 "I wrote my first line of code over 46 years ago on an IBM 360/50 mainframe using punch cards. The Chicago Board of Education allowed six high schools to participate in a trial of teaching programming classes to a few select students using Fortran and COBOL. When I arrived [to work] at Purdue, they were not sure what to do with someone that already knew programming."
MENTOR/INSPIRATION
"One significant person is Alan Stanford, who retired after creating and leading the Ernst & Young consulting division and now runs his most recent Indiana startup, Sherish."
GO-TO-WEBSITES
Gartner, Forbes, retirement sites
FAVORITE GADGET
"My two Amazon Echo [Alexa] devices. When I get up, I say, 'Play my morning briefing' to get up to date on what went on overnight."
MY JOB WOULD BE EASIER IF …
"Everyone saw the potential I see in them."
Check out more CTO honorees.
Please enable JavaScript to view this content.