Director of Information Technology
Hamilton County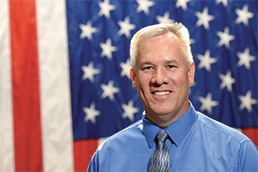 (IBJ photo/Eric Learned)
MAJOR ORGANIZATION ACHIEVEMENTS DURING TENURE
Mertens is credited with transforming Hamilton County's information technology department to better serve its nearly 300,000 residents. He has implemented a formal Helpdesk and Change Management System, increased the availability of online payment options for residents, made it possible for tax bills to be received via email, upgraded connectivity between buildings to 10Gig while standardizing design and equipment, and instituted a single managed print agreement for the county.
RECENT TECH PROBLEM SOLVED
Finding an effective and efficient way to train users on cybersecurity awareness. "Each gamified lesson only takes 10-15 minutes to complete and covers a current and relevant topic," Mertens said. "User progress is tracked and reported to their department heads and elected officials." Making it even better, he said, is the fact the training doesn't dip into the county's general fund budget.
CHALLENGE FACED OR ACHIEVEMENT THAT ONLY TECH PEOPLE WOULD UNDERSTAND
"A new feature of the County 911 system upgrade was to allow access via web browser to current 911 calls. [But] the system was built so the web server was on an internal, private network. Anyone outside our private network wouldn't be able to use the functionality because of potential security issues." Solution: "We utilized a proxy server in Azure Government, providing a secure location for requests to go to and allowing any user with the proper login information to securely access the system via Azure. All traffic is terminated in the cloud. The back-end servers are not exposed to direct HTTP traffic and targeted attacks are mitigated."  
FIRST COMPUTER
"A Radio Shack TRS-80 my parents gave me when I was in elementary school."
EDUCATION
Mertens has a bachelor's in business administration from Lincoln University of Missouri and an MBA from William Woods University.
THE ROAD
While interning in government, Mertens realized that, "If I took 15 hours of computer classes, I could qualify for IT jobs at the state level. It expanded my opportunities." After college, he worked for the state of Missouri for various agencies, including the Governor's Office. Government work "provided lots of opportunities. It paid for certifications and classes and for my master's degree."
MENTOR/INSPIRATION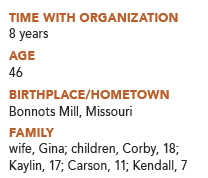 His parents "demonstrated the work ethic necessary to succeed." Seeing his mother, a Missouri state employee, at work "was a heavy influence on my decision to continue my career in government." Mentors include Dan Ross and Bill Bott, the CIO and deputy CIO for Missouri. "Both believed in me and moved me into the leadership position I wasn't sure I could do at the time."  
GO-TO-WEBSITES
CNET, Govtech, Microsoft, Thurrott, Petri  
FAVORITE GADGET
Surface Pro 4. "It's my primary desktop when I'm at work."
MY JOB WOULD BE EASIER IF …
"IT products all worked the way they were marketed to."  
Check out more CTO honorees.
Please enable JavaScript to view this content.