Chief Information Officer
NCAA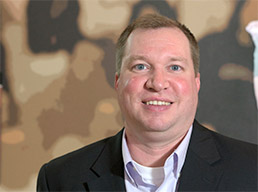 (IBJ photo/Eric Learned)
MAJOR ORGANIZATION ACHIEVEMENTS DURING TENURE

In the top IT spot at the NCAA—the collegiate sports group that regulates athletes at more than 1,200 schools—Williams continues to have a major league impact. His team created the first NCAA mobile app, as well as a from-scratch process to manage and prioritize IT requests. In part as a result of those efforts, the NCAA was named in 2017 as an IDG Digital Edge 50 winner and to ComputerWorld's 100 Best Places to Work in IT.

RECENT TECH PROBLEM SOLVED

"When I arrived, there was only one 'data center,' with no backup, and it lacked any kind of disaster recovery plan," Williams said. "With no additional funding, we had to move as rapidly as possible to the cloud, which ended up saving a significant amount of money, increasing our up-time, and providing more functionality for our users." In addition, "We rolled out several significant new products for our membership that help better track and manage expenses related to travel for all of the NCAA championships. We also rolled out a strategic dashboard for university presidents to compare schools, student athletes, minority hiring, etc., across NCAA membership. We got very positive feedback on that. And now, every year, a quarter of a million high school students who want to be student athletes can access us on mobile for eligibility. We have a new travel-expense system with faster reimbursement." It was six days. Now it's half a day, which is more impressive when considering the NCAA sends approximately 200,000 student athletes, coaches and officials out on the road.

THE MIND OF THE ATHLETE

Williams also served as a member of the Accelerating Academic Success Program committee, which assists Division I schools in developing programs and systems to increase graduation rates.

FIRST COMPUTER
"386DX40, which I buIlt myself from scratch," he said. "During high school, I worked one summer at a computer shop and learned to build computers. Whenever I got a paycheck, I'd immediately give the shop their paycheck back, because I'd spend that money on new parts to continue to upgrade."

EDUCATION

Williams has a bachelor's and master's in management information systems from Auburn University and an MBA from the Kellogg School of Management at Northwestern University.

THE ROAD

Williams started as a software engineer at SAIC Inc. in Huntsville, where he received a top secret security clearance. There, he completed projects for the Missile and Space Intelligence Center, Army Test and Evaluation Center, and Pfizer. Offered a job with Northrop Grumman leading technology projects at the Joint Intelligence Training Facility, he moved to Britain. Eager to earn his MBA, he applied to Kellogg's one-year program and, while there, accepted a job with the FBI to serve as an internal consultant. After a few promotions, he was managing the FBI's email database and unified communication platforms before scoring his "dream job" at the NCAA.

BOARDING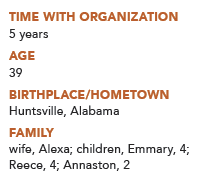 Williams sits on the boards of Evanta Indy CIO Summit, the SEAT Sports & Entertainment Alliance in Technology consortium, and, new this year, Auburn University College of Business Advisory Council.

MENTOR/INSPIRATION

"Too many to mention," he said. But he did mention his parents, along with Mary Proffitt and Freida Stacy-Rose at the FBI, and Andy Sharples at SAIC.

GO-TO-WEBSITES

Slashdot.org, Networkworld.com, Arstechnica.com, CIO.com

FAVORITE GADGET

"Is the phone too obvious?"

MY JOB WOULD BE EASIER IF …

"Phishing emails didn't exist."

Check out more CTO honorees.