Chief Information Officer
UnitedHealthOne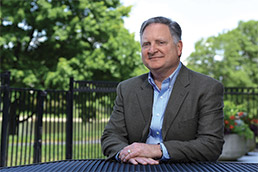 (IBJ photo/Eric Learned)
MAJOR COMPANY ACHIEVEMENTS DURING TENURE
UnitedHealthOne sells health insurance to individuals and families and is part of the publicly traded insurance giant UnitedHealth Group Inc. Dodson is a leader in transforming UnitedHealthOne "into a highly adaptable, consumer-centric digital payer organization," he said. "Leveraging the principles of 'agile enterprise' and 'lean startup,' I've initiated the journey to move business systems from a traditional legacy mainframe waterfall engine room to a high-quality, agile and digital strategic partner to the business."
RECENT TECH PROBLEM SOLVED
Dodson has cracked the code of "how to use lean startup and agile to go-live with an enterprise off-the-shelf health care payer core administration system in six months." Every internal and external "expert," he noted, "insisted that it had to be done using the traditional waterfall approach by defining every last detail upfront and building it all before going live." But that approach, he reasoned, was going to take too long, cost too much, and not lead to the desired outcomes. "We're operating in a market of extreme uncertainty and must deliver value quickly," he said, adding that the company had to "learn from concrete experiences, pivot where necessary, and remain flexible to adapt to rapidly changing individual health insurance market conditions."
CHALLENGE FACED THAT ONLY TECH PEOPLE WOULD UNDERSTAND
"Transforming a legacy mainframe team of over 300—of which over 46 percent were baby boomers—from waterfall to scaled agile, reaching level two maturity in 10 months. We proved that the benefits of agile are attainable in mainframe environments."
FIRST COMPUTER
"I wasn't much of a techie geek. The first time I used a computer was an IBM PS/2 at work in the late '80s."
EDUCATION
Dodson has a bachelor's in computer and information science fromOhio State University.
THE ROAD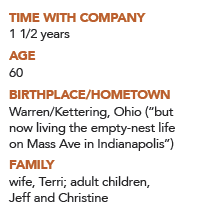 After serving as a consultant for Columbus, Ohio-based Computer Task Group, Dodson migrated to Texas as a team leader for Trane. Various positions with Sony Digital Audio Disc Corp. brought him on a journey to New York, New Jersey, Indiana (Terre Haute) and Los Angeles. In 2010, he returned to Indiana as vice president of information services for Medxcel, a subsidiary of Ascension Health, before taking the job with UnitedHealthOne in 2016.
MENTOR/INSPIRATION
"I've not had the good fortune of having a mentor to consistently shape my leadership journey," he said. "I would have loved that." His inspiration, however, is his father, who pursued medicine as a second career and remains an active family practice physician at the age of 85. "There are all kinds of great things to take from his journey … but I have no desire to be working in IT at 85."
GO-TO-WEBSITES
Google, Amazon, WeatherBug, Yelp
FAVORITE GADGET
"A proper waiter's corkscrew"
MY JOB WOULD BE EASIER IF …
"I was a better leader."
Check out more CTO honorees.
Please enable JavaScript to view this content.