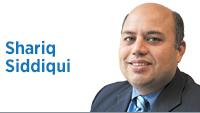 This has been a difficult few months for our nation. President Trump and his GOP partners in Congress have consistently blundered from one crisis to another. While political pundits consider this a failure for Donald Trump, Paul Ryan and Mitch McConnell—and Democratic operatives look on in glee in the hopes of 2018 electoral success—the reality is that this has been a terrible time for our country. When our elected leaders flounder, so does our nation.
We have three equal branches of government. Congress is supposed to be messy because it is responsible for creating laws through compromise. Our courts are generally more deliberate because they have the time to interpret our Constitution and laws and are generally beholden to no one. The White House is supposed to be the inspirer and visionary. It is this intricate balancing of public functions that is the real genius of the balance of powers in the U.S. Constitution.
In the past, while Congress continued its 10-year partisan obsession with dysfunction and inability to develop laws, we had visionary and inspiring presidents during crisis in President Bush and President Obama. While we might not have agreed with their visions, messages and directions, there was at least clarity on where they hoped to lead us. We are missing this important function of government. The Trump administration has no clue what it would like to achieve and has provided no clear blueprint on how to achieve any form of progress.
In the midst of this crisis, we are further divided within our nation and look like idiots overseas. I recently spent a week in South Africa at a conference with delegates from across Africa. No one considered the United States a leader and instead look to nations like China and India for stable leadership. I sensed sadness for the diminished nature of U.S. leadership in the world. This is new and doesn't bode well for our nation.
Within the country, despite a rising stock market, anxiety is increased among the young and middle class. The right is intent to focus on the top in the hopes that trickle-down economics might work this time. The left is focused on the safety net that does no more than create a floor. While both sides use the middle class in their rhetoric, no significant policy proposals are being offered to match that rhetoric. There has been no policy proposal from any side to address upward mobility: the bottom 20 percent progressing to become part of the top 20 percent.
This White House and President Trump's lack of discipline might be manna from heaven for the Republican and Democratic base, but it is bad for our country. Sadly, few political operatives care about the sad state of affairs of our nation. All look to milk it for partisan political success.
At the heart of the problem lies a minority base that controls each of the respective parties. The primary elections are harming our nation. It is time we get out of the business of funding primaries that allow the major political parties to select leaders that are harmful for our nation. We should require each political party to develop, fund and implement its own mechanisms to select electoral candidates.
Getting rid of party primaries will be simply one step toward sanity. If nothing else, it will reduce a financial burden on government. My parents always taught me that, when you go to a store and buy something that is horrible, don't repeat that mistake. Our elected leaders are a bad bargain and we should rethink throwing good money after bad.•
Click here to see all of the latest Forefront columns.
__________
Siddiqui is an attorney, has a doctorate from the Lilly Family School of Philanthropy at IU and leads the Association for Research on Nonprofit Organizations and Voluntary Action. Send comments to ibjedit@ibj.com.
Please enable JavaScript to view this content.