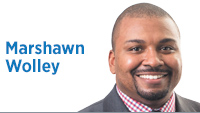 My black son started kindergarten this month and thus begins my war with the U.S. education system. According to the Economic Policy Institute, cognitive and non-cognitive skill gaps begin as early as kindergarten. By third grade, someone will decide if his reading scores warrant the creation of another prison cell. Less than 80 percent of Indiana black students graduated on time from high school in 2016. Indiana is No. 2 in the country in homicides for black males. My son lives in a country where he has a 1-in-3 chance of getting arrested.

Don't get me wrong. I did my research on schools and identified what I think is the best possible situation for him. I've now engaged with the principal a half dozen times, and the intelligence I gathered on the teacher suggests this is a good situation. But I'm still at war with the U.S. education system—or, more accurately, how black children are treated in the U.S. education system.

In Indiana, black males are suspended or expelled at a rate more than three times that of white males, according to the U.S. Department of Education's Office of Civil Rights. He will be mistaken for older than he is, bigger than he is. His energy and enthusiasm will raise suspicions about his ability to pay attention, not that he's already mastered the topic and is bored. He will experience someone asking to "touch his hair." Someone will likely try to put a ball in his hand or politely call him "so articulate."

At some point, he will experience being perceived as a threat by perfect strangers. At some point, and in subtle ways, blackness will be presented as pathological, not overtly but more in the omission. This is coming.

But I've only got one son who gets to do kindergarten for the first time—once. Failure isn't really an option. So, what am I to do?

The inside scoop on elementary schools in the city actually revealed a number of excellent academic options. The challenge is whether they are excellent for black children, too. In selecting a school, I had to recognize that I was selecting the terrain for the battle. In my war, it would also be helpful to identify much-needed co-collaborators in this uphill fight for black youth in society.

In my war, I believe I've found some allies.

Sen. Greg Taylor and the Greater Indianapolis NAACP successfully got ethnic-and-racial-studies elective courses into K-12 curriculum. Ahmed Young, director of the Mayor's Office of Education Innovation, is providing leadership with respect to equity in education. And while I have my issues with The Mind Trust, Senior Vice President Kameelah Shaheed-Diallo worked diligently to develop equity reports designed to address subgroup data disaggregation, an outcome of a law on discipline data disaggregation that I and other young professionals advocated for a couple of legislative sessions ago. Former IPS principal and education advocate Carole Craig remains a force to be reckoned with.

For my part, Indiana won't get to set all of what my son learns—because its standards are too low for the 21st century. I'll support my teacher and the principal while demanding rigor.

Most important, every day, my son affirms he is black, beautiful and intelligent and cares for others. Winning this war means he will proudly remain so as he graduates from college and graduate school. He won't be society's statistic.•

Click here to see all of the latest Forefront columns.
__________

Wolley is a lecturer at the School of Public and Environmental Affairs at IUPUI. Send comments to ibjedit@ibj.com.