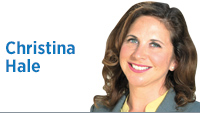 Our cynical, fractious national mood is reflected even by the little kids I talk with around the state. You have to laugh when they groan and catcall when asked if they are sick and tired of politics and politicians, but it really isn't funny.
Clearly, we are a bit addicted to the drama and bad behavior, but at the same time, no one from any political persuasion seems to enjoy it.
So, perhaps like me, you might be in the mood to light a candle rather than curse the darkness. If so, I have a story for you.
Sometimes, elected officials do the right thing for the right reasons when no one is looking. Seriously. I know what you're thinking, but it's true.
Let me tell you about an amazing woman from Indiana politics who stepped up to help people when no one was looking, and she has never gotten credit for it.
It all began at the Indiana Women's Prison, on Girls School Road. You might not know this, but our Indiana Women's Prison was established in 1873 as the very first adult female correctional facility in the country, intended to address the problem of "fallen women" in society. A dubious charter, but in its day, it became a model for the healthy rehabilitation of convicted women criminals. It still operates to this day.
Around 18 months ago now, although it seems longer, I was there to speak to a group of incarcerated women studying public policy. Our conversation turned to the practical, unique physical struggles of incarcerated women.
They revealed to me the very sorry and very personally challenging hygiene products they were allotted in prison. In essence, the products they were given to manage their monthly needs were less than adequate to the task.
As a then-member of the General Assembly in the overwhelming minority, I found it difficult to clearly communicate this need to the Indiana Department of Correction staff. My impression was that it was beyond awkward for the male staff to discuss the state of feminine hygiene with me, and I found that I would not be able to help these women on my own.
But I had an ace up my sleeve. I knew an empowered woman who could get over that brick wall. So I made an appointment with our majority party Lt. Gov. Sue Ellspermann.
Her response? "I've got this."
And she did. After I had spent weeks spinning my wheels, Ellspermann had the right people gathered and ensured that the right thing happened for these women.
They got their tampons.
These women had no idea that our lieutenant governor was fighting for them. In fact, they couldn't even vote for her if they had the opportunity.
Leadership means doing the right thing for people when no one is looking and there is nothing in it for you. Leadership means spending political capital on practical things that matter to people in their daily lives but will never make the headlines.
Leadership is reflected by people like Sue.
Time is overripe to reach across the aisle and get things done, and it is time for our elected leaders to ask themselves if they are in it for the right reasons. Do they want to get good things done? Are they ready to lead? I have to believe more stories like this one are out there. It is time to tell them and remind ourselves of the good things happening among the drama and the partisan blame games.
Most important, rather than telegraphing our frustrations, let's model the right kind of behavior and tell the leadership stories that inspire our kids to greater things.•
Click here to see all of the latest Forefront columns.
__________
Hale is a former member of the Indiana House and ran for lieutenant governor in 2016 on the Democratic ticket. Send comments to [email protected]
Please enable JavaScript to view this content.