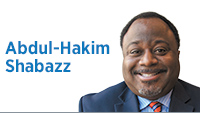 Last year, I did a deep dive into the data regarding police-action/officer-related shootings, as they were prominent in the headlines. It looks like this will be an annual event.
Part of my motivation for this was a recent rally at the Statehouse where the 21st-century-version of a gentrified lynch mob called for the criminal prosecution of the officers involved in the Aaron Bailey shooting in June.
Mayor Joe Hogsett, trying to placate this crowd, has offered proposals for diversity training and a review of the use of force by IMPD. It would have been nice to have all the facts first regarding the Bailey incident, but we are where we are.
So with all the chatter about police-action shootings—which by the way, Indianapolis has had only one this year—I decided to take a look at the data so far this year from across the country. With what we've seen in the news, you would think it was open season on unarmed black men by law enforcement. However, the information I found on The Washington Post's database tended to paint a different picture.
Here's what I found, overall:
■ There have been 581 police-action shootings that resulted in fatalities, 10 of which occurred in Indiana.
■ Mental illness played a role in 25 percent of the incidents.
■ 173 of the deaths involved defendants fleeing the scene.
■ 501 of the fatalities were male.
■ 23 percent (120) were African-American; only eight were unarmed.
■ In 427 instances, a weapon (a gun, knife, car) was involved.
■ There were no body cams in 469 cases.
When it comes to Indiana specifically, here's a breakdown of those 10 police-action shootings that resulted in fatalities:
■ All 10 fatalities were male.
■ Five were white; three were African-American; one was Hispanic; the other was unknown.
■ Three were ages 18 to 29; three were ages 30 to 44; three were more than 45 years old; the other was unknown.
■ Two were mentally ill.
■ Six used a gun as a weapon, and three used a vehicle. One was unarmed.
■ Out of six that fled the scene, five used a car.
■ There were no body cams in any of the incidents.
■ Only one of the police-action shootings occurred in Indianapolis.
I also did a check of shootings in the last couple of years. There were 963 nationwide in 2016; Indiana had 14. There were 991 nationwide in 2015, 19 of which occurred in Indiana. And once again, anyone looking for open season on African-Americans will be disappointed.
In 2015, 26 percent of the fatalities were black nationwide. That number dropped to 24 percent in 2016. And as far as being black and unarmed goes, there were only 38 shootings of unarmed black men reported in 2015 and 17 in 2016. Only seven were fleeing the scene.
In Indiana, 2016 saw 14 police-action shootings that resulted in fatalities: Four were African-American and only one was unarmed. In 2015, 19 police-action shootings ended in death: six of the killed were African-Americans, and none were reported unarmed.
I am not writing this to assign blame or deter fault. I am writing because the one thing that usually gets lost in these incidents is the facts. So I thought I'd just present a few.•
Click here to see all of the latest Forefront columns.
__________
Shabazz is an attorney, radio talk show host and political commentator, college professor and stand-up comedian. Send comments to ibjedit@ibj.com.
Please enable JavaScript to view this content.