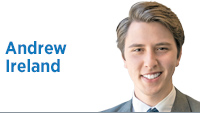 Candidates with small pockets and big aspirations matter. As political powerhouses like Rep. Todd Rokita and Rep. Luke Messer roll out their respective bids to unseat Democratic incumbent Joe Donnelly, the handful of lesser-knowns in Indiana's Senate race are making a mark.

I have had the privilege of working with some incredible campaigns in my young life as a digital consultant. Some have been successful; some registered as no more than a blip on the radar. However, almost always, these office seekers have had something meaningful to contribute.

Candidates who run on ideas—no matter the results—breathe life into their party and help move communities forward. This is especially true of political outsiders. Their fresh perspectives are enriched by a practical closeness to everyday America and provide significant learning opportunities for voters and the greater field. Looking at the current slate of Senate hopefuls, several candidates fit this bill.

Terry Henderson, for example, is a successful businessman who spent 13 years with Dow AgroSciences—one of the state's largest employers and a global leader in agricultural products. Drawing on his experiences, Henderson rightly calls for a need to streamline regulations and tax policies to help family farmers compete in the global marketplace.

Likewise, Mark Hurt is a successful attorney and former adviser to former Sen. Dan Coats, who is now the director of national intelligence. Hurt's resume includes helping to pioneer health savings accounts, a well-regarded cost savings instrument later implemented in some form in programs like the Healthy Indiana Plan. As the nation continues to debate the future of the Affordable Care Act and health insurance in America, his perspective is especially meaningful.

Andrew Takami, for his part, is a charismatic educator who serves as director of Purdue Polytechnic New Albany. Troubled by the rapid growth of student debt in Indiana and beyond, he is interested in developing alternative financing opportunities through private investment and furthering student-loan repayment opportunities through service.

Each of these three candidates has a significant uphill climb to compete with the fundraising and tested political prowess of two sitting congressmen—not to mention that names like state Rep. Mike Braun, state Sen. Mike Delph and Indiana Attorney General Curtis Hill continue to be floated as additional challengers. Nonetheless, their campaigns should not be ignored.

Rarely do candidates with little political experience or connections go on to win a competitive race. New media is paving a way for less-established figures to reach constituents, but this is far from foolproof for these Senate hopefuls.

Ultimately, come May, we are likely to put our trust in a more established political figure; however, it would be a mistake not to give each of these candidates his due. Their bids are meaningful in their own way and we stand to learn a great deal simply by listening.

Hoosier Republicans should take pride in having a healthy stock of candidates, all coming with their own unique backgrounds. I am confident each would serve his state honorably. Win or lose, every candidate will help move Indiana forward and will help energize diverse groups of voters ahead of November.

Elections are ultimately grand debates, providing a forum for voters to evaluate candidates on anything and, as we have learned, truly everything. Politics is a marathon and not simply a race. As we begin the sprint to primary day, we should not forget the value of the lesser-knowns.•

Click here to see all of the latest Forefront columns.

__________

Ireland is a college Republican at Indiana University. Send comments on this column to ibjedit@ibj.com.