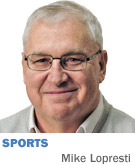 All right, Purdue Paint Crew, let's hear it.

"We want Argentina! We want Argentina!"

Not to mention Romania and Estonia.

Yes, the World University Games are upon us and the Boilermakers are ready to head east. Or is it west? Whichever. When they get to Taipei, they'll be on almost precisely the other side of the world to represent the USA in the basketball competition. If you started digging in Mackey Arena and went deep enough, you might end up in their locker room.

For the rest of August, Purdue is America's Team, trading black and gold for red, white and blue. A special opportunity it is, and a rare situation, when the Boilermakers are scheduled to play the United Arab Emirates this season as often as they are scheduled to play Indiana.

You wonder, at a time like this, do Hoosier fans root for a Purdue team with USA on its jerseys? Or do they swing over to Russia and Finland?

"Those are some things we really haven't gotten to yet, in terms of talking to our guys, what it means to represent your country," Matt Painter said the other day. "We'll do so when we get there. Right now, we're just trying to get through practices and get through our exhibition games and get prepared for our trip."

About that trip. First, regarding the destination. The Boilermakers have taken tough journeys to East Lansing and Iowa City, but how about to a place that flowered under the Qing Dynasty? There's a skyscraper that rises nearly a third of a mile into the air. Taller, even, than Isaac Haas. And this isn't Minneapolis in February, bundled up on the way to face the Gophers. They get 14 inches of rain in Taipei in an average August, with lots of heat, and humidity higher than the speed limit on I-65. Also, according to the climate report, "the occasional typhoon." So the Boilers best pack their ponchos.

By the way, if baseball moves your needle, Taipei is the capital of Taiwan, whose kids once dominated the Little League World Series as if they were the Yankees.

Next, about the accommodations. They'll be in the athletes' village, where the buffet will be serving 35,000 meals a day, promising local delicacies such as braised pork rice and bubble milk tea. Pizza, too, but probably not from Arni's.

And finally, about the competition. Five games in pool play—bring on the Czech Republic, among others—then a nice, long run in the medal round. At least, that's the hope. The opener with Argentina on Aug. 20 is a tricky one. Want to follow along with the game on YouTube? Set an alarm. Tipoff is at 5:30 a.m., Indianapolis time.

In the end, Purdue wants to be just like Kansas. You remember, the team that booted the Boilermakers out of the Sweet 16 last March by 32 points. But we're talking the Jayhawks, circa 2015-2016.

It was nearly an all-Kansas USA team that brought back the gold from the 2015 World University Games in Korea. The feat required some hard labor, including a one-point win over Serbia and an 84-77 double-overtime final over Germany, the big plays delivered by familiar Jayhawk names such as Frank Mason III and Wayne Selden Jr. "The guys played like men, against men," Kansas Coach Bill Self said when it was over.

It obviously didn't hurt the Jayhawks in preparing for the college season, either. Kansas went 33-5 and advanced to the Elite Eight.

Now it's Purdue's turn. The Boilermakers are starting life without Caleb Swanigan and hope for a boost from this experience similar to what Kansas seemed to get. They wouldn't mind a similar medal, either—especially their coach, who knows a little about being disappointed. Painter led the 2011 USA team in the World University Games and finished fifth, thanks to a two-point loss to Lithuania in the quarterfinals.

No amount of Indiana coaching brainpower could get a better result. Helping Painter as assistants were Purdue grad and then-Tennessee coach Cuonzo Martin and Brad Stevens, just off his second Final Four at Butler.

Painter had players from 12 schools on that team. Now USA Basketball sends a college team, so this bunch is 100 percent West Lafayette, where they have been getting acclimated to such international nuances as the 24-second shot clock, tighter traveling calls and a different basketball. All that detail work so they can carry the colors, which not many college basketball teams get the chance to do as a unit. Carsen and Vincent Edwards, a nation turns its lonely eyes to you.

Before they take the 16-hour flight to a different hemisphere—and they thought Penn State was hard to get to—the Boilermakers have exhibitions this weekend against Team Canada at Carmel and Lafayette Jeff high schools. More chances to tidy up for Taipei.

Nice places to play, too, but probably with no bubble milk tea at the concession stands. Purdue will be ready, anyway. America's Team for a fortnight. Even in Bloomington.•

__________

Lopresti is a lifelong resident of Richmond and a graduate of Ball State University. He was a columnist for USA Today and Gannett newspapers for 31 years; he covered 34 Final Fours, 30 Super Bowls, 32 World Series and 16 Olympics. His column appears weekly. He can be reached at mjl5853@aol.com.