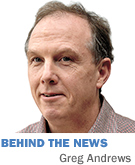 Sardar Biglari for years has taken shots at the regime of former Steak n Shake CEO Peter Dunn, who led the chain from 2002 to 2007—seemingly with the goal of self-aggrandizement. As recently as this February, Biglari said in a letter to shareholders, "No one decision resuscitated this dying restaurant chain from its agony of losses into an enterprise cascading cash, an accomplishment initiated in the midst of the Great Recession."

Yet Biglari—who gained control of Indianapolis-based Steak n Shake in 2008 and now runs it as part of his San Antonio, Texas-based holding company—shares something in common with Dunn that's less flattering. Both men initially exhibited the Midas touch, unleashing a string of decisions that sent sales marching higher quarter after quarter. Then, suddenly, the magic disappeared.

Dunn, a former president of Borden Foods, achieved 10 straight quarters of same-store sales gains—driven, in part, by a blitz of new-product introductions, from sippable sundaes to side-by-side milkshakes—before the slide began.

In the spring of 2006, after Steak n Shake reported its third straight same-store sales drop, veteran restaurant retail analyst Jack Russo told Dunn on a conference call, "It just seems like something is missing. You had that magic early on, and of late it has been tougher to come by."

Biglari put together an even more impressive run—29 consecutive quarters of increasing same-store sales, one of the longest winning streaks in the restaurant industry. But that streak ended a year ago. And with the weak Steak n Shake results announced this month, the 602-restaurant chain now has reported same-store sales drops in four of the last five quarters.

The latest results, announced Aug. 4, were particularly soft. Same-store sales fell 3.1 percent, driven down in part by a 4.3 percent decline in customer traffic.

Steak n Shake's revenue held up respectably in the first half of the year, slipping just 2.4 percent, to $394 million. But profit (before income taxes) is another matter. Steak n Shake earned just $4.3 million, down 79 percent from the $20.5 million it earned in the first quarter of 2016.

Why profit fell so much isn't entirely clear. Biglari, unlike many CEOs, doesn't hold quarterly conference calls. Instead, he speaks publicly only once a year—at the company's annual meeting each spring in New York City, an hours-long, shareholders-only confab.

But Biglari's holding company, Biglari Holdings Inc., did say in a Securities and Exchange Commission filing that in the second quarter the cost of food it purchased rose a hefty 8.5 percent, reaching $61.4 million. It said the increase was "primarily attributable to increased commodity costs, including beef prices." The filing added that, during the second quarter, Steak n Shake enhanced the quality and quantity of the bacon and cheese on its burgers.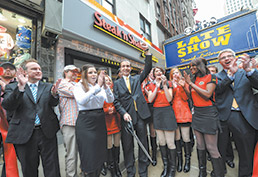 Biglari was on a roll in January 2012, more than three years after taking over Steak n Shake. He opened the chain's first New York restaurant that month, next door to the studios of "Late Show with David Letterman." (AP photo)
The disclosures lead to this provocative question: Have the business benefits of the company's value-oriented strategy begun to run their course?

Biglari built Steak n Shake's turnaround on cheap food—starting with the rollout of four meals under $4 in 2008 and upping the ante to 24 meals under $4 last year.

In a letter to shareholders four years ago, Biglari wrote: "We are subscribing to Sam Walton's philosophy in which he stated, 'By cutting your price, you can boost your sales to a point where you can earn far more at the cheaper retail price than you would have by selling the item at the higher price.'"

Biglari continued the theme in this year's shareholder letter, writing, "'What worked for Henry Ford with cars works for us with burgers. He wrote: 'I hold that it is better to sell a large number of articles at a small profit than to sell a few at a large profit. … We have had a small profit per article but a large aggregate profit.'"

But with Steak n Shake's costs rising, at some point it will become unsustainable to keep meals below $4. Or at least doing so would have such a negative impact on food quality or the dining experience that it would become counterproductive.

The signs of strain aren't showing up just in financial statements. Steak n Shake also is wrestling with a smattering of lawsuits filed by employees who allege the company's efforts to control labor costs led to violations of the U.S. Fair Labor Standards Act.

Those include suits by tip-eligible employees who say they were given non-tip-producing duties that left them earning less than the minimum wage. Other suits—including a case seeking class-action certification in Missouri—allege that employees with the title manager routinely worked more than 40 hours a week and had so many in-the-trenches, non-management responsibilities that they should have earned overtime. Attorneys for the Missouri plaintiffs allege in court papers that restaurants were "chronically understaffed."

Steak n Shake has defended its payment practices and staffing levels.•