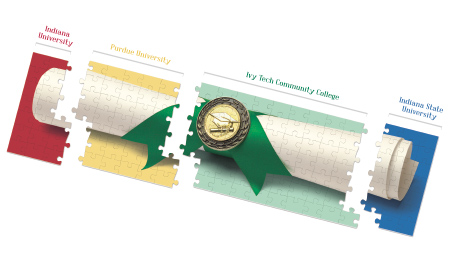 Ivy Tech Community College has a new focus on transfer students in its latest quest to arm more Hoosiers with college degrees.
President Sue Ellspermann says she sees potential in expanding in Indiana what's known in the higher education world as "reverse transfer."
That's what happens when students are awarded associate degrees after combining credits they earned from both the community college where they started attending classes and the four-year college they transferred to—even if they hadn't completed enough credits at either institution individually to earn a degree.
Proponents, including Ellspermann, say the tactic could help college dropouts increase their pay or get better jobs because they'd have an associate degree on their resumes. Too often, she said, "life gets in the way" for people on their way to earning four-year degrees.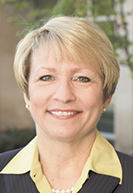 Ellspermann
"Having an associate degree has value to your career," Ellspermann said. "They earn more than someone with just some college. At least if they have the associate degree, they can get a better job until life settles down enough that they can go back and finish that [bachelor's] degree."
Though it's more widely deployed in more than a dozen other states, reverse transfer is happening in Indiana on a small scale, typically at the request of individual students who want to use credits from
multiple institutions to earn associate degrees or through agreements inked out among some institutions.
Ivy Tech has awarded 270 associate degrees to students over the last two years using the method. Meanwhile, more than 20,000 students each year transfer credits from Ivy Tech to another institution. And the college says it has relationships with eight Indiana four-year institutions that make reverse transfer easier.
But Ellspermann said if the transfers happened automatically for Indiana students, more than 1,000 former Ivy Tech students each year could be awarded degrees.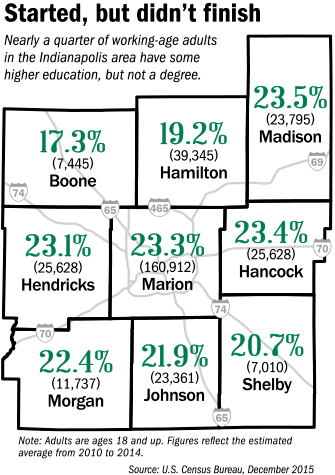 "We know there are thousands of students who are not getting this opportunity because they don't know about it and don't understand how easy it really could be," Ellspermann said. "It's in the student's best interest. They have earned it. They deserve it, regardless of if they've moved on."
And there's a benefit for the state as well. Awarding degrees through reverse transfers would help increase the state's college-attainment rate—the number of people with college degrees or high-quality certificates. That rate currently stands at 41 percent; the state's goal is 60 percent by 2025.
"Several thousand additional associate degrees would measurably move and impact the 60 percent goal," Ellspermann said.
The state is currently studying the issue at the behest of the Indiana General Assembly—and some four-year institutions have already endorsed the idea. But some issues still must be hashed out between two-year and four-year colleges, including how state funding for the schools would be affected.
House Bill 1281, passed this spring, charges the Indiana Commission for Higher Education to, by Nov. 1, "study and make recommendations regarding the benefits of a reverse transfer policy for Indiana students."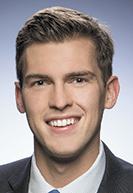 Tierney
Sean Tierney, the agency's associate commissioner for policy and planning, told IBJ the study will "attempt to determine practices that best serve Indiana students while balancing costs and other constraints."
"These are complicated processes that require audits of various data systems and strict protocols to ensure that student information is protected," Tierney told IBJ in an email.
It's trending
Currently, the state has 750,000 residents with some college education but no degree. Tierney said the potential of helping those former students makes studying the idea worthwhile.
"Many Hoosiers may have all the skills and knowledge they need for workforce success, but without that piece of paper, they often cannot get their foot in the door or are passed over for promotions," Tierney said.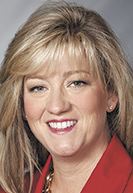 Sullivan
Rep. Holli Sullivan, R-Evansville, who authored the bill calling for the study, said state lawmakers have "curiosity and the desire to fully understand" the issue.
"We've heard that there is a very strong potential to help Indiana increase educational attainment," Sullivan said. "We need to put some more data behind" the proposal.
Nationwide, 16 states have adopted reverse transfer programs—some through state law and some through board policy, according to the national Education Commission of the States, a nonpartisan group that provides policy analysis and education research for all 50 states.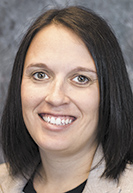 Anderson
There was a big push for the expansion of reverse transfer in 2012 and 2013, according to Lexi Anderson, a policy analyst at the organization.
The National Student Clearinghouse estimates that some 2 million students nationwide could benefit from such policies.
In states that have uniformly implemented reverse transfer, the results are positive, but not usually dramatic.
A 2015 report from Credit When It's Due—a multistate initiative that supports reverse-transfer policies—found that programs in Arkansas, Maryland, North Carolina and Ohio contributed to an increase of 1 percent to 3 percent in the number of associate degrees awarded. In Minnesota, the average number of annual associate degrees increased 5 percent; in Hawaii, the increase was 18 percent.
"Folks looked at it as a way to help reach attainment goals and help students find a path forward," Anderson said.
"It's sort of like a stepping stone. Reverse transfer can work and I think it can be helpful, but you have to make sure you set it up for success for your state.
"There needs to be really good collaboration between the two-years and the four-years," she said.
"Technology can always be an issue, depending on what's available. Those are some hiccups that can make this difficult."
Cooperation is key
For Indiana, questions remain about how an expansion of reverse transfer would affect higher education funding. Colleges in Indiana are funded in part using a performance system, number of degrees conferred being one of the metrics.
Ellspermann said that's the major hurdle in the reverse-transfer discussions.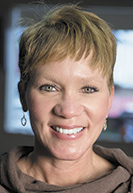 Smith-Simmons
"If Ivy Tech and Vincennes [University] were to claim hundreds or thousands more associate degrees, that would shift the performance funding pie so that less of the pie is left for the four-year institutions," she said.
But Ellspermann is so sold on the idea of helping former students that she said Ivy Tech is willing to split credit for an associate degree "50-50" between the two institutions involved—or not claim any extra money at all.
"We're not pushing reverse transfer for the money," she said. "It's the right thing to do for the student."
The state's four-year institutions also have to be on board.
Purdue University spokesman Brian Zink said Purdue has a long history of collaborating with Ivy Tech and Vincennes. Most of the time, when students transfer to Purdue, it is to achieve a bachelor's degree.
"We are happy, however, to work with a student, at their request, to arrange appropriate transfers for them to receive an associate degree—if the requirements have been met and that is their desire," Zink told IBJ in an email.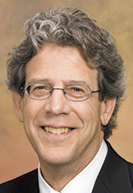 Beacon
Indiana University spokeswoman Margie Smith-Simmons told IBJ the university looks forward to seeing the commission's recommendations.
"We do support the reverse transfer process and have been deeply engaged with the commission and Ivy Tech on this issue," Smith-Simmons said in an email.
John Beacon, senior vice president of enrollment management, marketing and communications for Indiana State University, said that, since 2011, 190 Ivy Tech students who eventually transferred to Indiana State have opted in to be considered for reverse transfer.
"It's not a huge program, but if it's going to encourage citizens to continue their education and complete bachelor's degrees and earn associate degrees along that path, absolutely I'm in favor of it," Beacon said. "It's really a win- win situation."•
Please enable JavaScript to view this content.