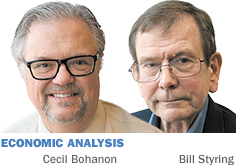 The Great Obamacare Debate has gone "Pooof!" For Congress' next trick, it seems it will turn to taxes. So now is a good time to reveal one of the tax questions that will be on your Economics Midterm Exam. The correct rate for the corporate income tax is: A. 15 percent, as President Trump says he wants; B. 20-25 percent, as some Republicans say is realistic; C. Much higher than the current 35 percent; D. Other (please specify).
If you've been paying attention, you know the correct answer is "D," and the correct corporate income tax rate is zero. That's right. No corporate income tax.
The reason is simple. No corporation ever paid a dime in taxes. People, in some capacity, pay all taxes. When a corporate tax is levied, people pay it as consumers of the company's product (higher prices), as company employees (lower compensation), or as shareholders-owners (lower returns). Economists debate exactly how much of the tax burden falls on each group, but are unanimous that it is ultimately paid by real people. The real taxpayers don't explicitly know they are paying the tax because the corporation writes the check and acts as a hidden tax collector.
So, let's enact a simple tax reform that recognizes this economic truism. Treat "C" corporations the same way we do S-corporations, partnerships and other "pass through" taxpayers. Attribute all corporate earnings to the shareholders and have them pay personal income taxes on it. If ABC Corp. earns $1 per share and you own 100 shares, you pay tax on $100 at whatever marginal tax bracket happens to apply. ABC as a corporation pays zero. Social justice warriors ought to love this idea. Daddy Warbucks with his 500,000 ABC shares would pay a hefty rate. Orphan Annie, with two shares, likely pays zero.
But redistributionist politicians hate this reform. It would shut up the "free lunch" politicians who always want you to think there's a bucket of free money out there if only "the Big Corporations would pay their fair share." People would see the taxes they're really paying.
In the coming tax debate, we don't actually expect this to be proposed, much less enacted. Despite all the protestations about "transparency," political leaders of both parties love hidden taxes. They agree with Jean Baptiste Colbert, Louis XIV's finance minister: "The art of taxation lies in so plucking the goose as to get the most feathers with the least hissing."•
__________
Bohanon is a professor of economics at Ball State University. Styring is an economist and independent researcher. Both also blog at INforefront.com. Send comments to [email protected]
Please enable JavaScript to view this content.