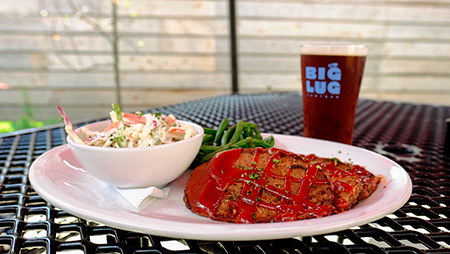 You might have pulled into this parking lot before.
Maybe it was for the Snooty Fox, the Nora veteran of 29 years that attempted a makeover courtesy of TV's "Restaurant Impossible" but couldn't grow a new audience.
Maybe it was for Big Lug Canteen, whose quality bar food, smartly chosen taps and downplayed charms (promising "pretty good beer" and "decent food") have added up to a winning product and loyal following.
Or it could have been for Big Lug's sister operation, Rockstone Pizzeria, which did not fare as well. If you liked its pies, you can still find Rockstone Pizzerias in Fishers and downtown Indy. Its Nora spot, though, is now occupied by Sahm's Ale House Monon (1435 E. 86th St., 317-735-1293), a new but still familiar restaurant owned by the same family.
Sahm's has long specialized in comfort food with a multi-generational appeal. And the brand usually knows what its customer base likes. In this case, the pizza oven stayed on premises in the turnover so the wood-fired pies are as good in the Ale House as they've ever been at Rockstone. At least that was the case with our BBQ Chicken version ($12.99) which, in playing up its sweet peppadew peppers, gave a distinct taste to a combination of caramelized onions, barbecue sauce, wood-roasted chicken and a light house tomato sauce.
Besides the pizzas, the menu is divided into Soups and Salads, Sandwiches, Signature Plates, Pastas & Stir Fry, and a maybe-you-should-rethink-that Mexican section labeled Hector Sector.
We opted for Italian, with the Baked Meatball ($11.99) amounting to a standard-issue rigatoni dish that failed to make ideal use of the true baking potential of the aforementioned oven for melting and distributing the mozzarella and ricotta. Combined with nondescript meatballs, the dish proved a disappointing choice. We had higher hopes for the Meatloaf Dinner ($14.99), from the Signature lineup. Here, thin slices of baked meatloaf were given additional personality by a brown sugar glaze. I appreciate that, for some dishes, half orders are available ($10.99, in this case). But the dinner staple wasn't overwhelming in its full-size portion.
For sides and salads, the Roasted Beet & Arugula Salad ($5.49/$9.49) missed out on the chance to shine by denying a strong presence for its key root vegetable. The feta and peppadew peppers had a stronger profile, with a balsamic vinaigrette going nearly unnoticed. More effective—although a bit steeply priced—was the Seafood Bisque ($4.69/$6.49), with roasted shrimp, Atlantic cod and clams in a creamy seafood stock.
While dessert specials—a Pizza a Smore, or Tres Leches Coffee Cake—are available at higher price points, the Ale House also offers Sahm's signature Sour Cream Coffee Cake for a mere $1.99 a slice.
And, since this is labeled an ale house, I would be remiss if I didn't add that the lengthy beverage lineup includes at least eight Big Lug Beer offerings sized from 7 ounces to 44 ounces ($3-$10), ciders, meads, a weekly curated flight selection (3 for $6/6 for $12) and an extensive lineup of cans.•
Please enable JavaScript to view this content.