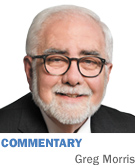 On a recent beautiful Sunday, I was looking for a diversion from all the insanity being played out in the national news. I'd had all I could take of the endless parade of abysmal commentary on television and was in dire need of an attitude adjustment. Well, a trip to the Indiana State Fair was just the ticket.
I spent a fun and educational day exploring the Wonderful World of Food at our great Indiana State Fair. Yes, I went totally off the reservation as far as my diet is concerned and ate my way around the fairgrounds. For starters, how could I pass up a corndog, Hoosier ribeye sandwich from the Indiana Beef Cattle Association, a red barn elephant ear, and lemon shakeup? Unfortunately, the lines were too long for me at the American Dairy Association of Indiana Dairy Bar, but it was a successful day of fair-food consumption.
I wasn't too concerned about eating myself into a food coma because it felt like I walked most of the 250 acres that make up the fairgrounds. Can we please ride the shuttle one more trip all the way around again? It only costs a dollar. In any case, the walking was great exercise, and it had to help work off at least some of the calorie intake.
But my fair experience was a lot more than just filling my belly with food. I also fully took in the celebration of agriculture and absorbed many of the history lessons that were prominent everywhere. I've been to the State Fair countless times over the years, but I always learn something new.
I walked through many of the livestock barns, the Purdue extension agriculture and horticulture building, the DNR building, Indiana young farmers building, FFA pavilion, Farm Bureau building, Mac Reynolds barn, the machinery field, the Pioneer village and opry house, Normandy barn, the Indiana history train and the Hooks drugstore museum and soda fountain, to name a few of the highlights. I know I missed a lot of great experiences, but there is only so much you can do in one day.
I do want to highlight the Indiana Grown Marketplace, a new store in the agriculture horticulture building that features more than 300 Indiana-grown products. There were seven sampling stations and live cooking demonstrations each day. I love the initiative which, among other goals, is designed to educate consumers on the importance of buying locally produced products. While Hoosiers spend approximately $16 billion per year buying food, less than 10 percent of that is sourced from within the state. The demand for locally made products is at an all-time high, but we can do better.
As you most likely know, agriculture is big business in Indiana. What you might not know is that Indiana produces an estimated $31 billion in sales of agriculture-related products, of which approximately $11 billion is sold in Indiana. Indiana ranks 10th in the nation in agricultural sales.
Indiana ranks first nationally in commercial duck production, wood office furniture and kitchen cabinet manufacturing. We're second in popcorn, tomatoes for processing, ice cream production, and cropland planted with a cover crop. Indiana ranks third in egg layers' inventory and eggs produced, and fourth in turkeys raised and peppermint, spearmint, fresh-market cantaloupe and snap beans for processing. We're fifth in corn (for grain), soybeans and hog production.
Corn, soybeans, poultry and egg, meat animals and dairy account for around 94 percent of total Indiana commodity cash receipts annually.
Here are more interesting numbers: 57,500 farming operations in Indiana cultivate just under 15 million acres of farmland. The average size of an Indiana farm is 256 acres, and 97 percent of Indiana's farms are family-owned. And what percentage of land in Indiana is made up of farms, forests and woodland? If you said 83 percent, you'd be right.
Summer in Indiana is a great time to be alive and enjoy the local harvest. Let's all endeavor to support our Indiana-grown and -produced food and products. Be sure to visit your local farmer's markets and patronize restaurants and food retailers that use and sell locally produced products. It's healthy, and it's good for business.
Next year, when the Indiana State Fair rolls around, I hope you'll take the entire family for the day. I guarantee a great time for all.•
__________
Morris is publisher of IBJ. His column appears every other week. To comment on this column, send email to gmorris@ibj.com.
Please enable JavaScript to view this content.