If you've heard about the movie "Columbus," you probably know the independent film was named for—and shot on location in—the Indiana town renowned for its architectural heritage.

What you might not know is that the movie, which opens Sept. 1 in Columbus and Indianapolis, has some significant connections to the Indianapolis business community as well.

Chief among them is Bob Compton, a former Indianapolis resident who is widely considered a pioneer in the state's tech industry. Starting in the 1980s, he helped fund firms like Software Artistry, Interactive Intelligence, Aprimo, ExactTarget and TinderBox. He's still an active investor in High Alpha and Octiv.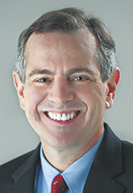 Compton
Compton, who now lives in Los Angeles, is one of the film's six executive producers. He also persuaded Indianapolis tech-industry notables Don Brown and Scott Dorsey to invest in the project.

But in addition to his financial backing, Compton is taking a hands-on role, using his background to help "Columbus" find new ways of reaching an audience.

The challenge, in a nutshell: how to reach viewers at a time technology is changing all the rules about film distribution.

"He's really trying to figure out a way to make independent film sustainable and to use new technology and new ways to do that. He's been an advocate and a champion," said Danielle Behrens of Boulder, Colorado, one of the film's producers.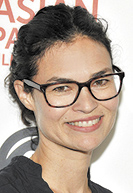 Behrens
Behrens said Compton made a "substantial investment" in the film, whose total budget is just under a million dollars, but she declined to provide specific numbers.

It used to be more common for independent films to get scooped up by a studio or distributor, which would then lead to a theatrical release. But the age of digital distribution has scrambled the old models. Now, audiences can watch movies from their computers or smartphones, and big media players like Amazon.com and Netflix are producing their own films. The net effect is that it's harder than ever for independent filmmakers to gain a foothold.

"Netflix and Amazon have changed the industry so radically. If you're not prepared to self-distribute, your film's not going to get seen," Compton told IBJ during a recent phone interview from Botswana, where he was participating in a skydiving event.

The challenge isn't unique to "Columbus."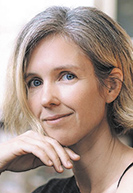 Goodenow
Indianapolis filmmaker Laura Goodenow is dealing with the same challenges with the film she produced, "Year by the Sea."

Goodenow said her film won 16 awards at 18 film festivals last year, including the Indianapolis-based Heartland Film Festival. The film also has some other things going for it: It is based on the New York Times best-seller of the same name by Joan Anderson, and the film proved popular with audiences who attended test screenings in Florida and Cape Cod.

But that still wasn't enough to attract a distribution deal, Goodenow said. "We got a lot of positive feedback, but no one who really wanted to come on board."

She came to the conclusion that she would have to try to distribute the film on her own.

"There is no knight in shining armor, sometimes," she said. "You just have to do it yourself and prove yourself."

Going it alone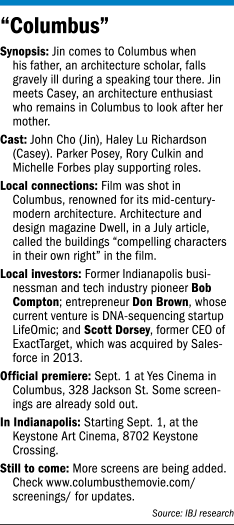 "Columbus" did get some distribution offers following its screening at the Sundance Film Festival in January, Behrens said, but she and her partners decided to give self-distribution a try. They liked the idea of retaining control over the process—everything from the content of promotional trailers to screening locations.

In May, the Sundance Institute selected "Columbus" and another film, the documentary "Unrest," as recipients of a new program called the Creative Distribution Fellowship. The fellowship provides recipients with financial and hands-on support to develop marketing and distribution strategies. Compton's work with "Columbus" is part of this program.

Compton has a long-standing interest in film. He's produced and distributed several of his own documentaries, starting with "Two Million Minutes," a 2008 film about the high school experience in the United States, India and China. He's also been financially involved in several other people's films.

He's also a financial supporter of the Sundance Institute, the not-for-profit founded by actor Robert Redford that supports independent films.

Compton met Behrens at Sundance and said he was drawn to her film for a couple of reasons. He likes the diversity angle—John Cho, one of the film's stars, is of Asian descent. So is the film's director, who goes by the single name of Kogonada.

The geography of the film was also a draw. While living in Indianapolis and working for IBM from 1978 to 1982, his job took him to Columbus on a regular basis.

"It's near and dear to my heart," he said.

When it comes to marketing and distributing "Columbus," Compton said he's approaching the project as a business challenge. The filmmakers already have a product (the film). Next comes identifying customers (audience members) and figuring out how to deliver the product to them (in a theater or online).

"It's very much like a startup," he said.

'Invaluable partner'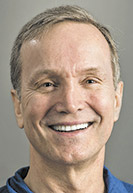 Brown
That approach comes as no surprise to fellow investor Brown, a longtime friend who met Compton in the 1980s. Brown was the co-founder of Software Artistry, and Compton was a partner at CID Capital Inc., a local investment firm that backed Brown's company.

Brown's latest venture is another tech startup, LifeOmic.

He said he's never invested in the film industry before, but did so based on the strength of Compton's recommendation.

"It was at Bob's urging that I wrote a check. It is something completely new for me," said Brown, who declined to reveal the amount of his investment.

"Bob has an incredible talent for jumping into businesses of all sorts and helping them understand their value and how to unlock that value," Brown said. "He's proven that he can do this in very unrelated fields."

Behrens said Compton has been an invaluable partner because he brings new ideas.

"He is always challenging the status quo and how people have done it in the past and the industry norms," she said.

As an example: The traditional thinking among independent filmmakers, Behrens said, is that, if you make a beautiful film, it will naturally find an audience. Instead, Compton has pushed the idea that "Columbus" producers need to identify audiences, target them and engage with them, especially on social media.

Facebook is an ideal tool for reaching targeted audiences, Compton said, because you can tailor your message to certain groups, get quick feedback and change the message if need be.

"You're able to define different market segments with a lot of detail," he said.

For "Columbus," Compton said, this has meant targeting Facebook users who are fans of architecture or independent films, as well as Hoosiers and Asian-Americans.

Compton has also helped "Columbus" move past another long-standing tradition: an outsized focus on coastal markets.

True, "Columbus" did open first in New York City (Aug. 4), followed by openings in Los Angeles and several other California cities on Aug. 11.

But the film also has scheduled openings later this month in places like Minneapolis, Denver and Nashville, Tennessee. And the movie is saving its big premiere for its namesake town.

"We did not have a red-carpet premiere in Los Angeles or New York. We're having our red carpet in Columbus, Indiana," Behrens said. One of the film's stars, Haley Lu Richardson, is scheduled to attend the Sept. 1 premiere, as is Kogonada. Cho might be there but had not confirmed as of Aug. 16, Behrens said.

"Columbus" also opens Sept. 1 in Indianapolis, followed by a Sept. 8 opening in Fort Wayne.

Path to success

After the film's theatrical run ends, the plan is to release "Columbus" to iTunes this fall, where it can be viewed for a fee.

"We're not going to sell it to Netflix," Compton said.

This is actually the second time Compton has helped an independent film forge a self-distribution strategy that includes an end-run around Netflix and Amazon.

He worked with the producers of "First Girl I Loved," a 2016 film about a relationship between two teen girls.

Compton declined to say how much that film cost to make, but he said it made back that amount eight months after its release.

"We're in the black, we've turned a modest profit, and we're still making sales," he said of "First Girl I Loved."

Less than 10 percent of independent films ever make a profit, Compton said.

It's early in the game for "Columbus," but Behrens said she's encouraged that Compton's help is putting it on a path to success.

During its opening weekend Aug. 4-6, the film was shown at two theaters and grossed $26,820, according to the Internet Movie Database. As a comparison, the top-grossing movie that weekend, "The Dark Tower," brought in $19.1 million from 3,451 theaters. That's an opening-weekend average of $5,550 per theater for the big-budget movie, versus $13,410 for "Columbus."

In total, "Columbus" has brought in $86,937 from seven theaters.

As of Aug. 17, the film had secured screenings at more than 40 locations, far surpassing the filmmakers' initial hopes for 10 to 15 sites.

"We're in a really great situation," Behrens said. "We would not be in this position, with this level of a release, without [Compton's] support and advisement. He has been an invaluable resource to this film production."•