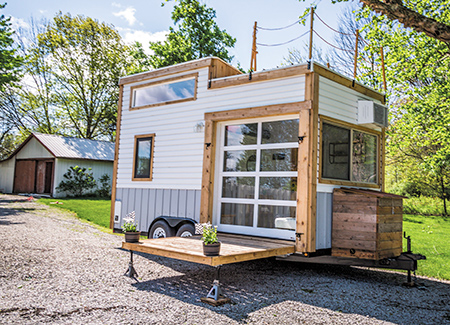 Maggie Daniels' spacious Zionsville house offers plenty of indoor space and lots of outdoor leg room. But what really sets it apart is her second home—a nondescript (from the outside) "tiny house" that's usually parked nearby.
The wheeled, custom-built structure encompasses only 144 square feet, but it has provided Daniels with not just a second place to lay her head, but also the idea for a new business. Her company, Try It Tiny, is a sort of Airbnb for folks who like to stay in tiny homes when they travel.
"A little over a year ago, I had been renting my [conventional] house out on Airbnb to earn some extra money," she said. "To my surprise, it was so successful that I was leaving my property regularly to accommodate new guests. My solution was to put a tiny house on the property so I could stay there while my traditional house was occupied."
These days, the minuscule structure gets more attention than the big house, in part because it's a flagship listing on Try It Tiny. Guests can stay for $120 a night, or $1,200 a month.
Apparently, lots of people covet such accommodations, because Daniels' listing service, which is barely a year old, was able to raise $175,000 in initial seed money.
"People like the experience of tiny living," Daniels said. "Many guests have seen TV shows [about tiny houses] and they enjoy the creative uses of space. A lot of guests comment on the retreat-like escape that coming to the country and staying in a tiny house surrounded by nature offers."
Visitors enjoy all the comforts of home, but on a very small scale. Indeed, the place looks like someone crammed an impeccably decorated, shabby-chic cottage into a phone booth.
The 18-foot-by-8-foot space contains a kitchen fitted with a two-burner cooktop, microwave, a larger-than-expected refrigerator, a surprisingly large basin sink, and a decent amount of counter space.
The living area includes a futon, and a foldout dining table purchased off-the-shelf from Ikea. The next-door bathroom comes with a tile-lined shower and composting toilet.
Incredibly, the space offers a second-floor loft, reached by a spiral staircase and containing a queen-size bed. Although you can't stand up (you can barely sit up) in the loft, a sunroof directly above the mattress can be opened to reach a rooftop deck.
The structure, which is wheeled and fully mobile, was custom-built by TAD Tiny Homes in Idaho. There's a big emphasis on recycling and repurposing. The walls are covered with repurposed pine planks; the floors are reclaimed bamboo; the can lights on the ceiling are made from actual recycled tin cans.
Daniels said as many as five people have stayed in the tiny house at the same time, and that she herself has spent about two months in its petite confines.
"It really makes you understand the importance of organization," she said. "Living tiny forces you to be mindful of what you really value, since you don't have as much space."
A big effort was also made to bring the outdoors in. The living area faces a full-size, clear garage door, which can be opened onto a small deck. There's also the rooftop deck and a Dutch door (custom-made by an actual Dutchman) that lets in even more light and air. But if that air happens to be hot and humid, the unit has its own air-conditioner.
Though the tiny house can be towed pretty much anywhere, it has mostly stayed on Daniels' property. When she rents out her main house, she's still OK with staying in it.
"I love the garage door," she said. "It brings in a ton of light when the weather is nice, and opening up the door doubles the living space."
Daniels said she plans to hitch up her tiny house—at 13 feet and 8,000 pounds—this fall and tour the country with it, visiting clients who list their homes on Try It Tiny.•
 
Please enable JavaScript to view this content.