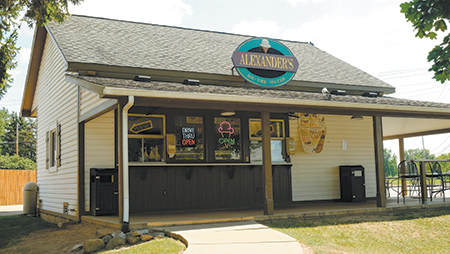 Trains might be permanently stalled on the Nickel Plate Railroad in southern Hamilton County, but officials in the northern communities are embracing the idea of getting passenger trains moving again.
A new not-for-profit called Nickel Plate Heritage Railroad Inc. is working on a plan that would run excursion trains from Atlanta to south of Cicero, an eight-mile stretch of the 37-mile corridor.
The trains might run about 75 days out of the year, primarily on the weekends, and attract 30,000 to 50,000 passengers annually.
Those possibilities have northern Hamilton County excited about potential tourism and economic development.
"It should help us tremendously economically," Atlanta Town Council President Fred Farley said. "The possibilities are endless, really."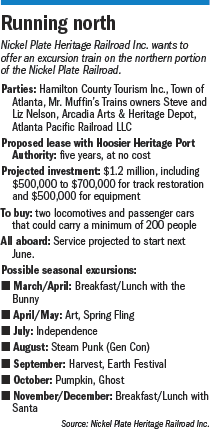 The potential boon for the northern communities is the result of decisions by others to abandon trains to the south.
Hamilton County leaders started questioning the future of the Nickel Plate corridor in March 2016, after the Hoosier Heritage Port Authority, the quasi-government agency that oversees the railroad, ended its agreement with the Indiana Transportation Museum, which operated excursion trains from Noblesville to Indianapolis.
The Port Authority issued a request for proposals in April for a new operator. In late July, the railroad owners—Fishers, Noblesville and Hamilton County—chose the proposal from Nickel Plate Heritage Railroad, an entity formed by Hamilton County Tourism Inc. in conjunction with Atlanta Pacific Railroad LLC and Arcadia Arts & Heritage Depot.
Nickel Plate Heritage Railroad will have a small staff to oversee management and programming, and it will contract with Atlanta Pacific Railroad—which is owned by Thomas Hoback, former president and CEO of the Indiana Rail Road—to operate the trains.
The agreement between Nickel Plate Heritage Railroad and the Port Authority isn't finalized yet. But the group is moving forward with its plans and trying to secure funding to make railroad improvements and purchase equipment. That cost could total $1.2 million.
Not everyone in Atlanta, Cicero and Arcadia—the three towns that would see the most impact—is on board. Some would prefer to follow in the footsteps of Noblesville and Fishers, which are planning to remove a 9.2-mile section of the railroad and replace it with a pedestrian trail.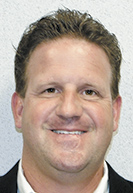 Heirbrandt
Hamilton County Commissioner Mark Heirbrandt, whose district includes the northern part of the county, said he's "never seen such a divide on a project."
"It seems like, with the communities, they have mixed emotions," Heirbrandt said. "Some people want the train. Some people want the trail."
Cicero Town Council President Chad Amos said he'd rather see a trail run south of Jackson Street in his community, then keep the railroad running north of Jackson Street, so the town could enjoy both amenities.
"I've heard a lot of people up here who have contacted me say the same," Amos said.
Cost-effective
The details of the train excursions have evolved slightly since Hamilton County Tourism submitted its proposal in June on behalf of all the organizations involved.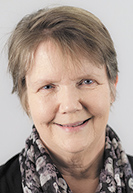 Myers
The preferred option in its initial plans had trains running 8-1/2 miles from Tipton to Arcadia. But Hamilton County Tourism President and CEO Brenda Myers said the group decided to keep the focus in Hamilton County—Tipton is across the border.
Operating the line from Atlanta to Noblesville has also been an option—and is still a goal. But Myers said that, at least during the first year of operations, the trains will run only about eight miles—from Atlanta to south of Cicero.
The rides could later be extended south into Noblesville, but that would require upgrading the railroad an additional four miles, at a projected cost of $250,000.
Myers said the group thinks it will need $500,000 to $700,000 to restore the eight miles of track it's focused on first. That would allow trains to run at 15 mph.
Hoback said he's familiar with the corridor and has seen a status report the Port Authority commissioned, so he's confident in the cost estimates. He said an advantage of the proposal to run trains only eight miles initially is that it keeps the cost low.
"It really is not a lot of money that we're talking about here," Myers said. "But it's definitely a startup."
Annual operating expenses are predicted at $750,000, and revenue would come from ticket sales, sponsorships and grants.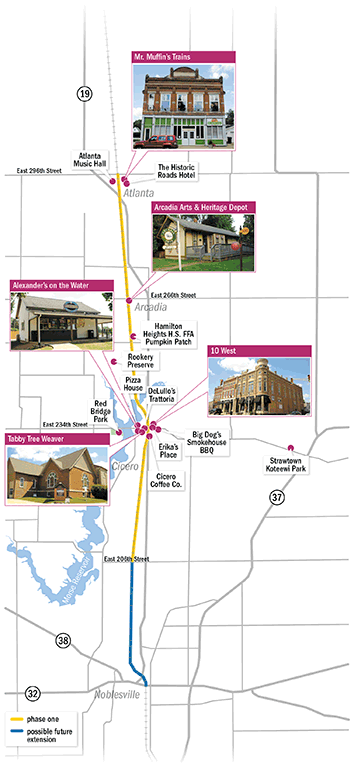 The group has looked at similar train operations in other states, including the East Troy Railroad Museum in Wisconsin and Cuyahoga Valley Scenic Railroad in Ohio. Based on that research, Myers predicted the organization should generate enough demand to break even or earn a small profit.
But, she admitted, operators must focus on keeping costs low.
"People want to see special-event trains. They want special-event experiences that involve a train," Myers said. "The challenge with that is, how much does that cost?"
Programs are expected to vary by season, incorporating the holidays or other attractions like the haunted Historic Roads Hotel in Atlanta or the pumpkin patch near Hamilton Heights schools. Some rides would be geared toward families, while others would be designed for adults, with food-and-drink pairings.
Exact locations for stops have not been determined, Myers said.
The busiest times of the year would be fall and winter, and Myers would like to see trains running by next summer. But that depends on when the group secures funding—a challenge because it doesn't own the asset it's trying to improve.
She said the group is looking into a variety of funding options, including federal loans or not-for-profit revenue bonds or donations.
"We are proceeding as if we have funding," Myers said. "I am eternally optimistic."
Train mecca
Stephen Nelson, owner of Mr. Muffin's Trains, a model train museum and retail business in Atlanta, said the proposal gives the community the potential to become the premier destination for train and railroad enthusiasts.
He compared the possibilities to the growth in Hamilton, Missouri, where Missouri Quilt Co. helped revive the downtown. With about a dozen quilt-themed stores, the town is now known as "Disneyland for quilters."
"We look at that business model and say we can do that in Atlanta, but it'd be around railroad and railroad history," Nelson said.
He moved his business to Atlanta about a year ago after being in Carmel four years. Museum admission is free; Nelson earns revenue to operate the museum by buying, selling and repairing model trains. During peak months—September through April—he sees 100 to 200 visitors on Saturdays.
"It's been a real shot in the arm for our community," said Farley, the Atlanta Town Council president.
Nelson said the proposed train excursions are "going to be terrific. I think we're going to be able to generate some activity. … I know that some people say it's not economically viable just running north [of Noblesville and Fishers], but I think it is."
Nelson, who also teaches business classes at Butler University, said more visitors could generate enough support for more local businesses to open.
Atlanta officials hope the additional visitors would bolster their downtown, creating enough demand to support a restaurant and more retail like antique stores, art galleries or consignment shops, and possibly even events like railroad or train conventions.
Nelson said he's already looking at opportunities to acquire more downtown Atlanta and Arcadia property to rent to entrepreneurs or small-business owners.
"We're committed to it," he said. "We moved here to support this."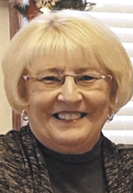 Heller
Catherine Heller, executive director of the Northern Hamilton County Chamber of Commerce, said she's received positive feedback so far from business owners who are excited to see the trains' impact.
"The light always shines the brightest on Fishers and Noblesville, and we're always in the shadows," Heller said. "These towns offer more than what's out there."
Myers said that, because tourism is heavier in the southern parts of the county, the northern towns might experience a learning curve in welcoming large crowds from the trains.
"Tourism is already very big in Hamilton County," Myers said. "Our biggest concern is that it could be too successful—but wouldn't that be a nice problem to have?"
Amos, the Cicero Town Council president, remains skeptical of the economic impact.
"I don't see a big draw, and I never have seen a big draw," he said. "As far as development, I think it would help us if it was a walking trail."
Myers expects Atlanta to benefit the most, given that many of the rides would start or stop there, but she said she sees potential for Arcadia, Cicero and Noblesville as well.
"I think the whole corridor will benefit," she said, "or we would not be this involved in it."•
Please enable JavaScript to view this content.