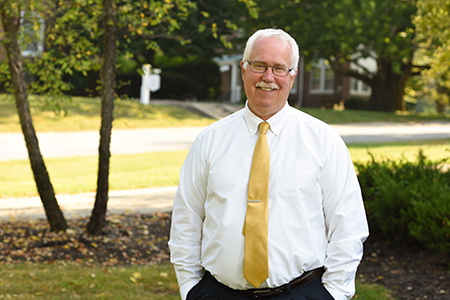 Lawrence officials say they are recovering from financial mismanagement and budget challenges of the past several years—and gearing up to invest in the future.
Days before current Mayor Steve Collier took office in January 2016, the city of 48,000 residents on Indianapolis' northeast side was rocked by a State Board of Accounts audit that painted a picture of financial mismanagement by city officials in 2013 and 2014.
The report detailed a litany of overdrawn fund balances, a few cases of overspending budgeted allocations, an unpaid tax bill, and a lack of internal accounting controls, including tardy reconciliations of the city's bank accounts.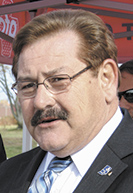 Jessup
Lawrence had also faced skepticism from ratings agencies after several years of declining budgetary reserves, and city officials believed its water utility was on the edge of collapse due to deferred maintenance and money shortages.
Since then, Collier—a Republican who ousted then-Mayor Dean Jessup, a Democrat, in 2015—said his team has been on a mission to shore up the city's finances by curtailing spending and building up operating reserves.
"We're kind of living within our means, so to speak," city Controller Jason Fenwick said.
And officials say the efforts are finally paying off: The city ended the year with higher-than-usual reserves. Ratings agency Standard & Poor's upgraded its civil bond rating in April. And the city is expecting increases in property and income tax revenue—due to an improved economy—which could allow officials to plan next year for some strategic investments in public safety and parks.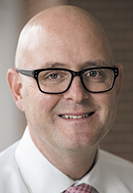 Fenwick
"I made the decision to run for mayor with the expressed interest of trying to fix what was apparently broken," Collier said. "We've been able to accomplish this accumulated reserve and still take care of what the city needs. A lot of this is just a matter of having a much better handle on how we do business."
But officials had to make hard decisions along the way to get to this point. In May, the city raised its water utility rate 68 percent, rankling some constituents, and the bonds associated with that utility still have a junk rating.
"The last thing you want to do is raise taxes," said City Councilman Bob Jones. "It was either do or die."
Financial stress on the city has been ongoing for years.
In 2012, ratings agency Standard & Poor's cut Lawrence's civil debt ratings two notches "on significant financial deterioration," according to a report at the time.
The drop from A+ to A- reflected the agency's "uncertainty of whether the city can maintain positive cash reserves due to its current structural imbalance."
A 2014 S&P report said that performance was "brought on largely by revenue pressure from circuit-breaker tax caps," which had been imposed by the state and voters through a statewide referendum, and noted that the city's reserves had declined to 3.6 percent of spending at the close of 2012.
Struggles with the city's Water Works utility have also led to challenges.
In November 2015, Standard & Poor's lowered Water Works' revenue and refunding bonds three notches from BB+ to BBB+, reflecting the agency's "weak" recent financial performance.
It noted the utility has been in structural imbalance since 2010, declining from a positive cash flow of $1.6 million in 2009 to a negative $637,000 at the end of 2014.
"The 2014 amount represents negative 54 days' operating expenses, which is below a requirement in the waterworks utility bond ordinance to maintain at least a 60-day balance," according to a report at the time.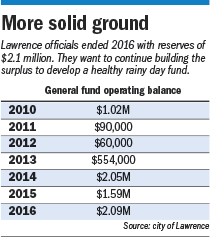 Drastic measures
Collier said he learned in early December 2015 before taking office that the utility "was going to be an issue I needed to confront right away," and talk of a rate increase began.
The situation became so serious that the city's sewer utility had to lend the water agency $1.5 million "just to be able to make the bond payment," Collier said, and Lawrence had gone about a dozen years without water main replacements.
"It would have been silly to think we weren't going to make some kind of dramatic rate increase," Collier said, noting it had been more than a dozen years since the last one.
In May, the council handily approved a 68 percent rate hike, although members called it a hard decision. Only two council members voted no, saying they worried their constituents couldn't afford the price increase.
For an average monthly home consumption of 4,000 gallons of water, the bill is now $37.66, compared to $22.41 before the fee hike.
"For some it may seem [like] not much, but for others it is," said President Joe Williams at the time.
Fenwick said the increase in revenue will allow the city to fully repay its loan from the sewer utility by the end of the year and set money aside for ongoing maintenance.
Officials are hopeful bond agencies see the activity and revise the shoddy bond rating upward in the next few months, which could allow the city to refinance at lower rates.
"The junk bond rating is a very expensive rating," Fenwick said. "It doesn't mean you can't get bonds, but they're going to be very expensive. In today's market, you should refinance those."
The Jessup administration said the financial mismanagement woes cited in the state audit were due to turnover in the Controller's Office, reduced staffing levels, and lack of expertise.
Then-Controller Ron Hungerford wrote in a response to the 2015 audit that those factors "had the result of creating or perpetuating the majority of these deficiencies." Jessup, who served one four-year term and now works for the city of Indianapolis, did not reply to IBJ's request for comment.
State Board of Accounts spokesman Tyler Michael noted a few areas of the audit stood out as concerning—namely, the city's failure to conduct bank reconciling in a timely manner, overspending accounts, and the fact that the city accrued nearly $36,000 in penalties because it was making utility receipt tax payments late.
Michael said bank reconciling needs to be done monthly "to make sure what they have on their ledgers matches what's in the bank."
He said he couldn't comment on the city's current financial status, but noted that its audit for 2015 and 2016 should come out later this year.
Comeback
Current city officials and observers say Lawrence has clawed its way back to financial stability.
The city ended the year with nearly $2.1 million in reserves, the highest since 2010.
And the city's $56 million 2017 budget has a balanced general fund—which accounts for about half the city's spending.
But revenue shortfalls in a few other accounts mean the city has projected it will end the year with a $4.2 million deficit. Fenwick said about $1.5 million of the shortfall will be paid by one-time reimbursements from Medicaid that were not included in the budget.
Shortfalls in water utility revenue—accounting for nearly half of the $4.2 million deficit—will be made up for by revenue collected from the rate increase, which was not included in the budget.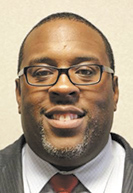 Giles
"We addressed those issues with the rate increase," said City Council member Tyrell Giles. "You should see us climbing out of any sort of deficit it may have shown in 2017."
The city also has been buoyed by a recent credit rating increase. After a one-notch increase in 2014, Standard & Poor's raised the city's lease rental bonds in 2017 from A to A+, based on the agency's "view of the city's stabilized budgetary performance, which has enabled growth in available cash reserves and improved overall financial flexibility."
Meanwhile, officials say they are looking forward to the future. The mayor will lay out his priorities when his administration introduces its 2018 budget plan to its Common Council on Sept. 5. The improved financial situation means Collier will finally be able to address other priorities.
"This is the first budget where we're actually able to set out what the mayor's priorities are," Fenwick said. "Increased emphasis on public safety, unprecedented increase on parks funding, and continuing to pave roads."
But Giles is urging caution. Although he acknowledges ideological differences with the mayor, he said he's been "very satisfied" with the administration's work on financial matters.
Still, referring to the need to bolster reserves, Giles said, "We need to pay ourselves first."
"I want to be kind of conservative that we don't get ahead of ourselves," he said.
Fenwick projects that the budget will increase public safety funding by about $700,000, parks spending will be up nearly 20 percent, and the city will propose about $750,000 to improve its roads—an amount that will double when coupled with state matching funds.
City officials also hope to end the year with more than 10 percent of the budget in reserves. That's important, Collier said, because it means "we don't have to worry about [costs that arise from] massive snowfalls."•
 
Please enable JavaScript to view this content.