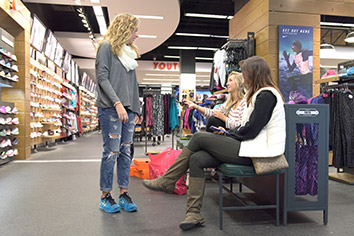 Finish Line Inc. shares plunged in after-market trading Monday after the sports apparel and shoe retailer announced weak results for the latest quarter, reduced expectations for the full year and said it adopted a shareholder-rights plan aimed at thwarting unwanted takeover advances.
The Indianapolis-based company said it expects to report fiscal second quarter sales of $470 million and per-share profit of 8 cents to 12 cents. 
Analysts polled by FactSet had expected sales of $477 million and per-share profit of 37 cents for the quarter, which ended Aug. 26.
Finish Line shares, which closed the regular trading session at $10.42, dove $2.42, or 23 percent, and were fetching $8 at about 6:30 p.m.
"The marketplace for athletic footwear became much more promotional as our second quarter progressed resulting in challenging sales and gross margin trends," Finish Line CEO Sam Sato said in a statement.
In separate press release issued after the market closed, Finish Line said it adopted the shareholder-rights plan, also known as a "poison pill"—a move that appeared aimed at staving off the United Kingdom-based retailer Sports Direct International, which has been aggressively accumulating stock in recent months.
Sports Direct owns 7.9 percent of Finish Line outright. In addition, it holds 21.7 percent through a form of derivative known as "contract for difference" that's not available to U.S. investors. In total, it holds a 29.6 percent interest in Finish Line, though it doesn't have voting rights on the contract-for-difference shares.
Sports Direct, which operates the United Kingdom's largest sportswear retailer, has not publicly stated its intentions, though some analysts have speculated that its end-game is to take over Finish Line, which at its current stock price has a market value of about $418 million.
"The board believes that it is in the best interests of Finish Line and our shareholders to adopt a shareholder rights plan given the current market conditions and recent share accumulations," Finish Line Chairman Glenn Lyon said in a statement that did not mention Sports Direct by name.
The plan uses the issuance of rights to purchase preferred stock to prevent an investor that owns less than 12.5 percent of the stock from boosting its stake beyond 12.5 percent. Any shareholder that already has more than a 12.5 percent stake is blocked from buying additional stock.
Such moves often are criticized by corporate governance experts for entrenching existing management. However, in an SEC filing, Finish Line said its board adopted the plan "to protect against any coercive or abusive takeover tactics, and help ensure that the company's shareholders are not deprived of the opportunity to realize the full and fair value of their investment."
Lyon and Sato said the company continues to focus on improving its long-term performance as an independent company—including "fortifying the customer experience" and better integrating online and in-store shopping—though they acknowledge conditions are tough for now.
The company said same-store sales tumbled 4.6 percent in the latest quarter and are expected to be below forecasts for the final two quarters of the year. 
Finish Line now expects to report adjusted per-share profit for the full year of 50 cents to 60 cents, less than half its previously forecast range of $1.12 to $1.23.
Finish Line shares had been banged-up even before Monday's drubbing. The stock now is off 67 percent since last December, and the company said nothing Monday to suggest better times are around the corner.
"We believe it is prudent to adjust our outlook as we expect the environment to remain highly competitive and promotional throughout the remainder of the year," Sato said in his statement.
Please enable JavaScript to view this content.