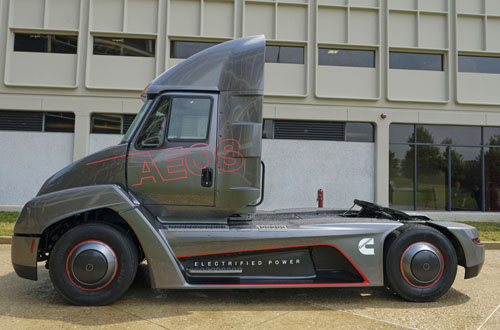 In the race to develop a fully electric semi truck engine, Columbus-based Cummins Inc. says it has become the first manufacturer to reveal a demonstration version of this technology.
Dubbed the Aeos, it isn't yet available for purchase. But during an event at its Columbus headquarters on Tuesday, the engine maker debuted an all-electric class 7 truck tractor and shared information on a handful of other next-generation technologies.
Cummins was founded in 1919 as a diesel engine maker, and diesels are still a significant part of the company today. But in June, Cummins announced it was working on a variety of new technologies—including its first all-electric powertrains—in response to industry trends.
The first all-electric Cummins engines, scheduled to hit the market in 2019, are intended to power city buses and delivery vehicles. Engines for longer-haul vehicles like semi trucks will be introduced later.
Cummins spokesman Jon Mills said the company hasn't yet set a timetable for when the all-electric semi trucks will be introduced. Timing for this "depends on demand and economic value for customers," Mills told IBJ.
Cummins has experience in electric technology—it already produces diesel/electric hybrid products—but it doesn't yet have a commercially available all-electric powertrain.
Mills said Tuesday's unveiling is significant because it shows Cummins is ahead of its competitors who are working on fully-electric semi trucks. Mills declined to name specific competitors. 
A Reuters news report released last week says California-based Tesla Inc. plans to release a prototype of its own electric heavy truck in September.
Cummins also highlighted some of its other new developments at Tuesday's event. They included a "near-zero" natural gas engine for Class 8 heavy trucks, set to hit the market later this year; and several new types of diesel engines.
 
Please enable JavaScript to view this content.