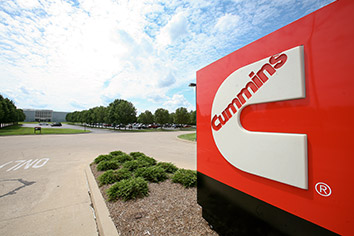 Columbus-based Cummins Inc., a powerhouse in the diesel engine market, says it will launch its first all-electric powertrains in 2019 in response to industry trends. 
"We will be in the market with electrified products in 2019," Cummins CEO Tom Linebarger said Wednesday. "That is a really exciting new area for the company."

Tom Linebarger
The manufacturer expects to have a fully electrified powertrain available for customers by the end of 2019. By 2020, the company plans to roll out all-electric products with an extended operating range, making them more suitable for longer-haul vehicles.
Cummins said it expects that metro buses, delivery fleets and material-handling customers will be among the earliest adopters of its electric powertrains. Trucks, off-highway machines, forklifts and products for mining companies likely will come along later, the company said.
Linebarger and other company executives made the announcement during a conference call late Wednesday. During the call, the company also outlined other initiatives, including a newly formed group focusing on digital technologies.
Cummins, founded in 1919, revolutionized the highway transportation industry with its diesel engines, which were more reliable and fuel efficient than the gasoline engines of the day. 
Today, technological advances and environmental factors are driving interest in electric vehicle technology—and Cummins wants to be part of this next wave of innovation, Linebarger said.
"We understand the world's changing," Linebarger said. "We think that means opportunity."
Cummins has experience in electric technology—it already produces diesel/electric hybrid products—but it doesn't yet have an all-electric powertrain.
The company emphasized that it will continue to produce diesel products and that diesel technology is still important—but electric power systems are emerging as an important new technology.
"We see a trend away from diesel, and we will continue to evolve," Cummins Chief Technical Officer Jennifer Rumsey said. "It's not the only answer when you consider the diversity of our markets and customer needs."

Jennifer Rumsey
Cummins expects that diesel technology will be around for at least several decades, but Rumsey said it's impossible to predict when it will no longer be viable. A variety of factors including fuel prices, future technological advancement and environmental issues,likely will influence diesel's longevity.
Executives cited a few different reasons that electric vehicles are growing in popularity.
Among them, technological advances are making electric technology cheaper and thus more financially viable for customers. 
At the same time, environmental regulations and social pressures are driving interest in electric vehicles. In particular, China, Mexico, India and Brazil all are moving toward stricter environmental controls.
Executives said Cummins is also investigating other possible fuel sources that may become viable in the future, including biofuels, synthetic fuels and hydrogen.
And last month the company launched what it is calling its Digital Accelerator—an internal group focused on innovation and evaluating new concepts with a focus on software development. Cummins already makes products equipped with telematic technology, which can do things such as identify and diagnose engine problems in real time.
Having a focused development department will allow Cummins to more quickly evaluate and develop new technologies, the company said.
Linebarger declined to provide specific figures, but he said Cummins is increasing its research and development spending to support these various efforts.
Cummins last year spent $616 million on R&D, which represented 3.5 percent of its $17.5 billion in sales. While "still maintaining significant investment in diesel," Linebarger said, the company is increasing spending in other areas, including electrification, digital products and telematics. 
Please enable JavaScript to view this content.