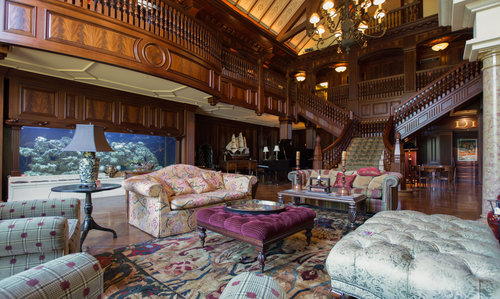 Tech entrepreneur Scott Jones is making the contents of his Carmel home available for purchase during an estate sale that will run four days next month.
The sale, which will run Sept. 14-17, will be located at the 27,000-square-foot mansion at 1150 W. 116th St. The sale "will open the doors of his home, inviting the public to peruse a lifetime of collections and household furnishings," Fishers-based Aether Estate Sales Co. said in a Tuesday press release.
Aether is coordinating the event, billing it as "one of the best estate sales ever conducted—not only in the state of Indiana, but in the entire country."
The mansion, which took seven years and $20 million to build, is expected to be listed by a real estate agent soon, said Lee Parson, an owner of Aether Estate Sales Co.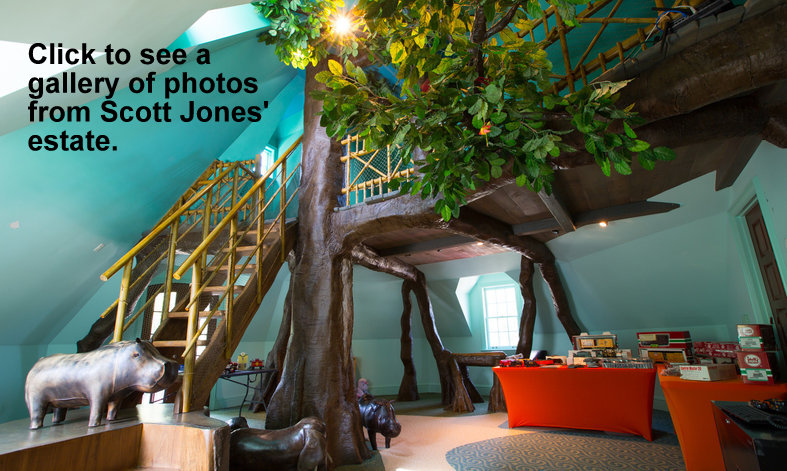 Jones could not immediately be reached for comment. He has resided in Hawaii the past few years, prompting him to make the home and contents available, Aether said.  
While gone, he once listed five bedrooms at the more than 20-acre Carmel estate on Airbnb, with prices ranging from $95 a night to $295 a night.
The home features a 33-foot-high great room, an indoor tree house, a circular mahogany slide, a 25-foot-long saltwater aquarium and an indoor basketball court.
It has been featured on popular television shows such as HGTV's Mega Mansions and MTV Cribs, where it won "Home of the Decade" in Season 17.
Jones, who gained success by inventing voicemail, in 2006 founded ChaCha Search Inc., a human-powered search engine. Once employing more than 100 people, it shut down operations in December.
His Carmel residence for years has served as an incubator for the local tech scene and has hosted sports legends such as Jordan Spieth, Reggie Miller and Peyton Manning, as well as numerous billionaires, scientists and tech gurus.
Jones' possessions that will be available at the sale include "high-end original" artwork, "priceless" antiques, custom furniture, an "incredible" clock collection and, on the more unusual side, a T-Rex skull cast.
"This enormous, family-owned estate is full of museum-quality antiques … and eccentric one-of-a-kind pieces with treasures in every nook and cranny," Aether said in the press release.
The four-day sale runs from 9 a.m. to 4 p.m. each day. For more information, visit Aether Estate Sales online at www.aetherestatesales.com.
Correction: This story has been corrected to reflect that Scott Jones' home will be listed separately by a real estate agent.
Please enable JavaScript to view this content.