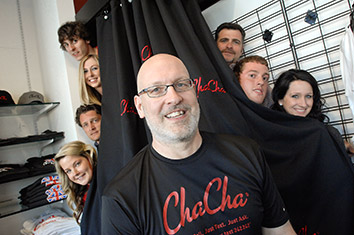 ChaCha Search Inc., the human-powered search engine started by local tech guru Scott Jones, shut down operations Monday.
The decade-old Carmel-based company, which once employed more than 100 people, had been operating with a skeleton crew of roughly a dozen since about summer 2014. When it switched from a physical office to a virtual office in mid-2015, its goal had been to generate profits, pay down creditors and hopefully, find a buyer, Jones said. 
But advertising revenue declined sharply this year, leaving the company unable to service its debt, and no suitors took a bite. So its secured lender, which Jones didn't name, recently emptied ChaCha's bank accounts.
"We sold some assets, but not enough to sufficiently cover all of our obligations," Jones said in an email Monday morning. "Unfortunately, our debtholders and shareholders, including me, will be writing off their investment."
Jones, who lives in Hawaii, said the company raised $84 million in equity capital, which includes $34 million from him. He said the company did pay off 80 percent of the $5 million loan from that secured lender.
Jones conceived the idea for ChaCha in 2005, at a time when Internet search engines were good at matching keywords but not so good at answering questions like "How many books are in the Bible?" or "Who won yesterday's Colts game?"
So Jones created a network of human "guides" that would research answers to queries. And over time, ChaCha's algorithms got better at automatically answering common questions.
At its peak in 2012 the company reached tens of millions of monthly online users and generated about $20.5 million in annualized revenue. But the company was ultimately dogged by changes in the internet-search space, including Google updates that lowered the search rankings of sites like ChaCha and that improved Google's ability to answer questions.
ChaCha.com page views whittled from about 370 million in August 2012 to about 6 million last month, according to web-tracking firm Quantcast.
Meanwhile, Jones turned attention to other ventures, including coding academy Eleven Fifty and a new business with his wife called AppHappens.
All told, the company answered 2.25 billion questions, enlisted more than 100,000 guides, employed about 440 different people and doled out $44 million in compensation. Jones said he did not take a ChaCha salary.
ChaCha attracted employees from within and outside of Indiana, some of whom are now in leading roles at Facebook, Salesforce.com, Angie's List, Tumblr, eBay, hc1.com, SteadyServ Technologies and DemandJump.
"While failure is never a pleasant experience, there are many good things that can spring from it, as is constantly demonstrated in places such as Silicon Valley, where failure is sometimes even considered a badge of honor," Jones said.
"Certainly, many important lessons were learned by hundreds of people who went on to have many bigger successes."
Please enable JavaScript to view this content.