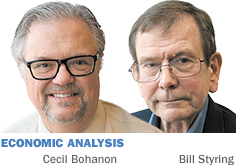 The City of Carmel wants to get into the hotel business. Not through incentives to a private hotel company. Carmel wants to finance, construct, brand and own a 4.5-star, 124-room luxury hotel. This raises a profound question: In 21st century Indiana, is there any limit to what government can do as long as "economic development" is the justification?
Here are the broad facts. Carmel has a downtown property that city officials have long dreamed of as a site for a luxury hotel. High-end hotel space like the Renaissance is available, but nothing on the top-top end. Carmel leaders concede private hotel developers have looked at the site and passed.
But Carmel leaders say they have "talked to our corporate community." Corporate headquarters might need a luxury hotel. But no formal market study has been done. An Oklahoma City consultancy says its experience with hotels leads it to conclude the market might be there. This same company is being paid $20,000 per month to secure an Autograph brand from Marriott and is slated to manage the hotel when it opens. So what do you expect it to say?
When is it appropriate for government to produce goods and services? Economists since Adam Smith say only when there are big "external" benefits that can't be captured in a market transaction. For example, a sewer system gives extensive public health benefits, and we'd underinvest in sewers if left to our own devices. Cities sometimes lure hotels as part of a plan to create convention business, but Carmel has no major convention center and no plans for one.
Many folks keep a half-straight face arguing for a public sports stadium, on the grounds that it gives the "externalities" of community pride and sports-fan chatter (Monday morning water-cooler talk on the Colts' Sunday foibles). But a stand-alone municipal hotel?
Hotel benefits can be captured by the simple market transaction of a guest paying for a room. One searches for so much as a fig leaf of a reason. If the private sector can't make a go of it, then don't build it. A hotel doesn't even spin off water-cooler talk. Can you imagine Carmelites standing around on Monday morning breathlessly whispering, "Did you hear the vice president of GigaBioTech slept in 'our hotel' last week?"
If the hotel bombs, you can bet they will ask, "Why are we taxpayers on the hook for this turkey?"•
__________
Bohanon is a professor of economics at Ball State University. Styring is an economist and independent researcher. Both also blog at INforefront.com. Send comments to ibjedit@ibj.com.
Please enable JavaScript to view this content.