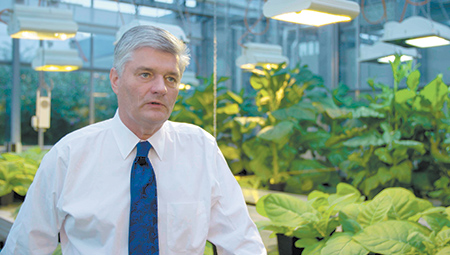 David Broecker, founding CEO of the Indiana Biosciences Research Institute, is stepping down from the top job.
The not-for-profit organization on Thursday named Rainer Fischer as new CEO, effective Oct. 1. Fischer joined the organization in April as chief scientific and innovation officer, and will continue to hold that title in his new position.
Broecker will continue to serve the institute in an unspecified advisory role, the organization said.
The IBRI, founded in 2013, is an independent group designed to bridge the gap between research universities and industry in life sciences. It has several dozen employees, but has said it wants to hire more than 100 researchers within five years, and perhaps double that within a decade.
Under Broecker, the institute raised more than $120 million in funding from Lilly Endowment, Eli Lilly and Co., Dow AgroSciences, Roche Diagnostics and other institutions.
Broecker has also championed the establishment of a major innovation district at 16 Tech, on the near-northwest side of Indianapolis, committing the IBRI to anchor this new development. The 16 Tech district also is under new leadership, announcing in June it had hired its first CEO, Robert Coy.
"The depth, breadth, and incredible collaboration that we have seen across all of Indiana's stakeholders – industry, research universities, government, and philanthropic organizations – has been amazing," Broecker said in a statement. "With Rainer now on board, it is time to pass the baton so he can take the IBRI to the next level of success."
The IBRI aims to conduct research in such areas as cardiovascular disease, diabetes, obesity and nutrition, looking to produce new diagnostic tools, drugs or agricultural technology. As part of the plan, breakthroughs could be commercialized by partner companies or spun out into startups.
Fischer was previously the senior executive director of the Fraunhofer Institute for Molecular Biology and Applied Ecology, headquartered in Aachen, Germany, and with locations around the world.  During his time there, Dr. Fischer grew the institute from 40 to 680 employees, raised with his team almost one billion Euro in extramural research funding and established collaborations in more than 25 countries.
He also has co-founded five biotech startups, holds 40 patents, has 64 patents pending, and has published more than 500 scientific papers.
Please enable JavaScript to view this content.