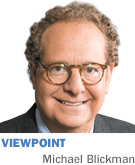 Once upon a time in America, the cardinal rule in the workplace was this: "Don't discuss politics, religion, race or sex." As an employment attorney, I help employers deal with difficult employee situations. I regret to report a disturbing trend: Employees are increasingly using their private social media accounts to express their most vicious personal opinions. Many of these are categorically racist, religiously prejudiced, sexist and threatening. Don't assume these are just the Charlottesville variety of tirades against African-Americans, Muslims, Jews and immigrants. Many fall into those categories, but these screeds run the gamut. I have even seen employees express bitterness toward individuals with disabilities who receive work accommodations and benefits.

Let's not fall into the trap of concluding that this behavior is the sole result of President Trump's tweets and sound bites. I saw this trend even before President Obama took office. Worse, the reach of Twitter, Facebook, Instagram and other sites causes online comments to multiply exponentially. Whether or not other employees are "followers" of a co-worker's social media account, they hear about and see these statements from others who willingly share them at work.

Unfortunately, this phenomenon has blown up to the point that it is a concern for all employers. When I talk to clients about these situations, many show reluctance to take action, not wanting to get involved in an employee's personal life. Aside from analyzing legal risk, I provide employers with advice in considering the range of actions they can take. What can and should employers do? I offer these suggestions:

• Expand your published workplace harassment and discrimination policy. Use it to express that your company places the highest value on respect for others and human dignity. Reinforce this by including it in new-hire orientation and reminding all employees on a regular basis. As important, recognize employees who demonstrate their commitment to these standards.

• Don't feel your hands are tied by an employee's loud cry of "First Amendment!" A private company's response should be that it has no liability on constitutional grounds unless the employee can show that government had a role in the disciplinary decision. Employee training should include this lesson so employees are not misinformed about their rights.

• Create an environment where employees understand they have personal responsibility when they see or hear this behavior. Much of it goes unreported, especially when manager-level employees engage in it. Employees must know it is their responsibility to report and must trust they will not be retaliated against if they do so.

• Before taking action, consider applicable state and federal law. In a handful of states, employees may not be disciplined based solely on non-workplace conduct. However, an employer can often overcome these laws depending on the facts of the case. Also, federal law prohibits employers from taking action against employees who engage in protected, concerted activity. This is not typically an obstacle, but it should be part of the pre-action analysis.

• When this comes to your attention, don't ignore an employee's online behavior. That person might be making similar comments at work. Tolerating employees who violate your company's standards emboldens them and conveys to every other employee that your culture statement is just words.

• As a general rule, personnel actions should be confidential. However, consider making an exception when you terminate an employee for this type of conduct. For too many years, employers have remained silent out of fear of being sued for defamation by terminated employees. But remember that truth is an absolute defense to a claim of defamation. Also, what better opportunity will your company ever have to reinforce your commitment to respect and dignity by "calling out" those who choose to ignore the company's stated principles?

• It is critical for leadership to demonstrate adherence to the company's standards. When an inappropriate statement is heard, executives should express that this is unacceptable.

There is only one way to respond to individuals who fuel divisiveness in the workplace. Employers must take action that is timely, bold and clearly communicates that this behavior will not be tolerated. This will benefit your employees and shape your culture. Words matter. Principles and action matter more.•

__________

Blickman is a partner in the employment and immigration group of Ice Miller LLP.