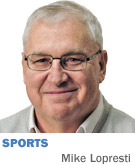 BLOOMINGTON—And then they played the game.
The buzz had been so much fun; it was as if they had been waiting for Christmas morning in Bloomington.
When the big day arrived Thursday, the balloons were nice, the ones that went up with "Back Home Again in Indiana." The planes flying over were impressive, and so were the long lines waiting to get through the metal detectors, even if many of the full house were from Dayton, Lima and Akron.
It was great to see Lee Corso back on town, for the first time in eons, not to mention the first-ever episode of GameDay Meets IU. Tom Allen savored all the friends and family who came by to share his home game debut as coach. "It brought tears to my eyes," he said later. "I'll cherish that for a long time."
And somewhere upstairs in the coaches' box sat Kevin Wilson, probably not happy that his first half as Ohio State offensive coordinator included five punts.
No ordinary opener, not at all. Unfortunately for the Hoosiers, no ordinary opponent, either.
Does leading Ohio State at halftime qualify as a moral victory? Probably not for Allen, who envisions a higher bar in Bloomington. The bottom line is the bottom line, and this one ended 49-21. The first 2-½ quarters, with Indiana ahead 21-20, were for dreamers, the rest for reality.
Indiana has still gone 10,554 days since last beating Ohio State.
Urban Meyer is still 16-0 in season openers, by an average margin of 31 points. One of those hidden little numbers that is astounding, when you think about it.
The Buckeyes still have assembled speed and talent rarely seen in the Big Ten. "Coached in the SEC, and that's the kind of team we used to play every week," Allen said when it was over. "Especially the elite ones."
And Indiana is still in the apprentice stage of trying to be somebody, which means some nights are going to hurt. "When it comes down to it, it was really about us," quarterback Richard Lagow said, assessing the mixed bag that included his 410 passing yards, but also the Hoosiers'  17 lonely rushing yards, averaging 0.6 a carry. They will not beat many teams gaining inches—or with Lagow throwing 65 passes. More of that, and he might need Tommy John surgery by Halloween.
At least the Hoosiers have an out this night, because of the wall of future Sunday players they were trying to move against. "Talking to their guys, they think they've got five first-round draft picks over there," Allen said of Ohio State. "That's not normal."
So should the masses have gone home depressed? The final margin was rather ugly, even though the Hoosiers were not unlucky. Play reviews turned an Indiana incompletion into a scoring catch, and wiped out an Ohio State fumble return for a touchdown. The Hoosiers had friends in high places Thursday night. Namely, upstairs in the replay booth.
As the gap widened in the second half, the sellout crowd developed a steady leak to the parking lot, but you could understand. This was a weeknight, and the fourth quarter did not start until 11:19 p.m. College football has to do something about its length of games. Something. Anything.
And so what to think, once the hullabaloo had faded and the GameDay set had been taken down and the stadium had emptied? Because underneath all the bells and whistles, that's what openers are for. To see where you are.
It's clear Indiana is an interesting bunch. The Hoosiers have a new coach who cut his teeth in Indiana high school football, a punter from Australia who kicks with both legs—"That was the first game ever in his life playing football," Allen mentioned—a backup quarterback with the first name of Peyton, and an abundance of capable receivers, especially Simmie Cobbs Jr., who will be a handful for Big Ten defenses.
"We left a lot out there on the field, but our confidence is still high," Cobbs said. "The first game of the season doesn't dictate the rest of our season."
The conclusion from Thursday was, well, who knows? The case could be made that the heat and hype generated by having Ohio State in as the opener came with a price—the Hoosiers were destined to have their first step be a doozy, and probably painful. They live at the moment in different football universes. Ohio State is 62-6 in Meyer's five-plus seasons. In that same span, Indiana has lost 38 times.
So any deductions from this first game might be a little tricky.
"Bottom line is that for two and a half quarters, went toe to toe with them," Allen said. "We're leading them and weren't able to finish. So that's on me. So we can talk about breakthrough, and I'm not going to quit talking about it because breakthrough is not one game. Breakthrough is a mindset, and breakthrough is a culture and breakthrough is an expectation, and that's where we're headed to."
Ah, yes. The borough of Breakthrough. It must be an actual place with its own zip code, since IU capitalizes it on its quote sheets. After all the fuss, what Thursday night proved more than anything, is that Indiana's best route to Breakthrough certainly does not go through Columbus, Ohio.
Please enable JavaScript to view this content.